Supervisors Concerned About High Speed Rail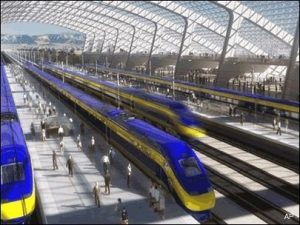 HSR

View Photos
Sonora, CA — The Tuolumne County Supervisors have sent a letter to the California High Speed Rail Authority.
The county's primary interest is to ensure that there is still a focus on protecting and enhancing local freight lines. Notably, the continuation of freight connection services in Oakdale for the Sierra Railroad. A notable customer that transports goods on the line is Sierra Pacific Industries. The letter states that the board is also worried about the "enormous costs" associated with the high speed rail project, and asks that environmental processes be followed so that the project does not "unnecessarily impact fertile farmland."
The letter states, "This rail plan needs to place a greater focus on maintaining short rail lines which transport critical resources and buoy up local economies. Planning and constructing a high speed rail system is a lofty goal whose price tag is too high."
The high speed rail is currently projected to cost $65 billion. District Five Supervisor Karl Rodefer noted, "The simple fact of the matter is, the 65 billion dollars is a 'spit in the bucket' compared to what it is going to cost the taxpayers, annually, to operate that system. And nobody is talking about that."
The letter was sent with a 5-0 vote. Construction on the high speed rail project could start in the Central Valley as early as this coming Summer. The first leg will run from Fresno to Bakersfield.