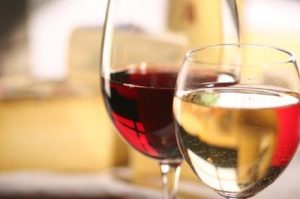 Wines in glasses

View Photos
Murphys, CA — California vintners have something to celebrate. Both the tonnage of grapes harvested and the prices recorded for them set records in 2012.

The U.S. Department of Agriculture released preliminary figures Friday showing that California's crush last year was a record high 4.3 million tons. Red wine grapes accounted for the largest share at 2.3 million tons, up nearly 20 percent from 2011.
Renner Winery Sales Manager Nicole Sass says, "It's always a positive feeling. We're really looking forward to being able to up our production with great harvest years and produce some great wines."
The average price growers received for grapes across the state was up nearly 25 percent to $734 a ton. But premium wine grapes grown in Napa County were a lot more valuable, averaging $3,578 a ton.
Sass says, "We are actually coming up to comparable prices. We still are probably half the prices of Napa grapes. Our grapes go for about $1,400 to $1,600 per ton, but it's definitely up and coming and with all these good years that could definitely boost the grape sales in the next few years here."
Prices for chardonnay averaged $846 a ton, up 12 percent from 2011.