Update: Newsom To Halt Death Penalty Executions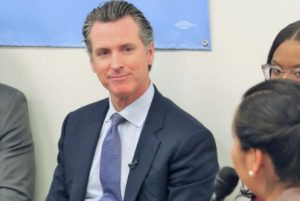 Governor Gavin Newsom

View Photos
Update at 1:30 p.m.: While President Donald Trump is opposed to Governor Gavin Newsom's halting of the state's death penalty executions, another law maker is calling for abolishing it. Assemblymember Marc Levine (D- Marin County) with a statewide coalition of lawmakers behind him announced Assembly Constitutional Amendment (ACA) 12, which would do just that.
The amendment would end California's death penalty in 2020 by prohibiting the issuances of the death sentence. Additionally, it would require the re-sentencing of all inmates currently on death row to a life sentence without the possibility of parole. Levine argues, "While the governor's action will temporarily halt executions in California, now is the time for the Legislature and the voters of the state to end the failed death penalty once and for all by supporting ACA 12. This is a conversation that must include all Californians."
At his press conference earlier today, Newsom elaborated on his reason for implementing his executive order, stating, "We have 737 people on death row today. 120 people have died of either suicide or natural causes. Just 13 have been executed. You as tax payers have spent $5 billion since the death penalty was reinstated in the state. What have we gotten for that?"
The constitutional amendment is co-authored by 23 members of the Legislature. Nineteen states have abolished the death penalty across the nation. Read President Trumps opposition to the executive order below.
Original post at 7:30 a.m.: Sacramento, CA — President Donald Trump is speaking out against Governor Gavin Newsom's planned Executive Order to halt the state's death penalty executions.
Newsom has scheduled a press conference for 10 o'clock this morning to discuss his planned Executive Order. President Trump went on Twitter this morning, writing, "Defying voters, the Governor of California will halt all death penalty executions of 737 stone cold killers. Friends and families of the always forgotten VICTIMS are not thrilled, and neither am I!"
The Associated Press reports that Newsom will argue today that the system is broken, and that innocent people have sometimes been wrongly convicted and put to death.