Calaveras Supes Honing In On CAO Hiring Decision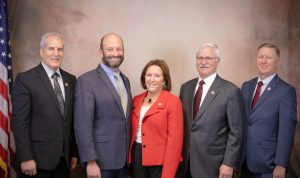 Calaveras County Board of Supervisors 2019

View Photos
San Andreas, CA — With a focus on hiring a permanent chief county executive, the Calaveras supervisors have slated a closed session special meeting in the coming week.
According to the meeting documents, Angels Camp's Greenhorn Creek Resort Fireside Room (711 McCauley Ranch Road) will be the venue for the session, which is scheduled to get underway at 8:30 a.m. The sole agenda item is to take a board action with regard to hiring a new County Administrative Officer (CAO).
As reported here, retired San Joaquin County CAO Manuel Lopez is currently overseeing the office. It is his second stint as back in 2016 he was briefly called in to cover the position following the retirement of Shirley Ryan until Tim Lutz was chosen by the supervisors to succeed her.
Lutz, who came from a mid-level executive position with the Tulare County government, tendered his resignation last November after accepting an offer to become that county's head of Health & Human Services.