Supervisors Help Rod Harris Celebrate 40-Year, Still Flourishing Jazz Career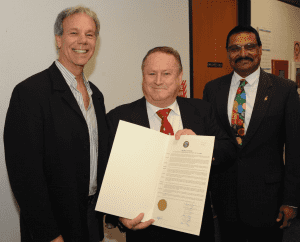 Dr. Rod Harris receives resolution on his jazz studies program 40th anniversary from Tuolumne County Supervisor-Chair John Gray with Columbia College President Dr. Santanu Bandyopadhyay

View Photos
Sonora, CA — A symphony of official proclamations honoring outgoing supervisors and staff included an aria marking a musician-educator's career milestone.
Among the several recognitions celebrated by the Tuolumne County Board of Supervisors at its final meeting of the year this morning was a tribute acknowledging the impacts over the past four decades and ongoing influence of Dr. Rod Harris as founder and director of the Columbia College Jazz Program.
Along with establishing back in 1978 the college's academically based program, which continues to promote jazz music to youth in high schools and colleges throughout the state, Harris himself has become synonymous with jazz and big band entertainment throughout the Mother Lode communities.
As noted in the supervisors' proclamation, it is estimated that Harris has to date impacted over 4,000 students — inspiring more than a hundred to move on to musical performance and teaching careers. Through Columbia College jazz festival programs, more than 20,000 students have taken advantage of opportunities to learn and play with some of the country's finest jazz musicians. Over the years, these have included many associated with the world-famous Monterey Jazz Festival and such "household name" entertainers as Frank Sinatra, Quincy Jones, Count Basie, Woodie Herman, and Johnny Carson's Tonight Show Band.
In promoting community jazz programs in Tuolumne and Calaveras counties, Harris was the genesis for the Columbia College Big Band through which more than 200 musicians, many who have worked professionally in jazz performance, have for decades brought jazz and big band music to thousands of folks across the Mother Lode. Playing saxophone and leading his own quartet and trio, Harris additionally performs with the Mario Flores Latin Jazz Band and plays piano with and as an accompanist for a variety of performing groups.
Supervisors Sing Praises
Supervisor and resolution coauthor Randy Hanvelt noted, "As leaders in the community, we recognize the important role the arts play in enriching our lives and society," acknowledging Harris' role as a key difference-maker in thousands of students' lives. Supervisor Karl Rodefer commended the college for supporting the work of Harris and his team. "Jazz has been described as America's only true art form and it is important to recognize the contribution of Rod Harris and the college have made in preserving this important contribution of America to the culture of our world — and particularly here in our Mother Lode community."
Harris earned his Ph.D. in Jazz studies from North Texas University, known as the nation's leading university-based jazz program and the first in the world to offer such a degree. When he created Columbia College's jazz studies program in 1978, he modeled it after his alma mater's. The Texas program, whose roots trace back to the Big Band era beginning in 1927, morphed into a globally performing band that became internationally known and Grammy-nominated. Harris also attended Pacific Lutheran University, where he received both a bachelors in instrumental music education and masters in jazz arranging.
Calling Harris a musician and music educator with a true passion for what he does, Columbia College President Dr. Santanu Bandyopadhyay said that the best way to understand and appreciate him is to attend one of his shows. "I have been at different performances in different parts of the world and I have seen it in Vienna…London…Los Angeles — every performance is embodied by the passion of the performer [and] Dr. Harris is a shining star. Thank you, Dr. Harris — I really appreciate the county for taking the time to honor him."
After all the accolades were finished, Harris spoke humbly, stating, "I cannot accept this award without acknowledging hundreds of people behind the scenes that help…the support of Columbia College gives me the platform…hundreds of community volunteers — thousands of events over the years — a lot of people are to be appreciated behind this award, so thanks to all of us."
The Columbia College Jazz Series Program begins 2019 with its High School Jazz Festival February 1-2 at the college along with a continuing series of concerts throughout the area, including a March 31 performance at the Gallo Center.