Outgoing CAO Pedro Saluted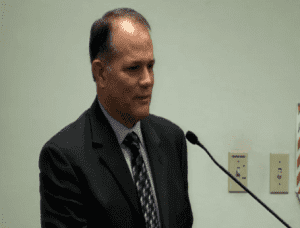 Craig Pedro

View Photos
Sonora, CA — Soon to be retired Tuolumne County Administrator Craig Pedro was recognized for his 34 years of service.
There were tears flowing as the supervisors gave him a special proclamation at today's meeting and spoke about his dedication and impact on the county. Pedro, a county native, with family roots dating back to the 1850's, started as a Management Analyst in the CAO's office in 1984, became a Senior Administrative Analyst in 1988, Assistant County Administrator in 1997 and CAO in 2006.
Highlights during his early years included overseeing the construction of the Tuolumne County Library, Youth Center, Carlo De Ferrari Archives Building, and Jamestown Youth Center. He also had the complex and heart-wrenching task of weighing the options, and eventually closing, the Tuolumne General Hospital. In recent years he helped Tuolumne County make its way through the recession and came up with long-term budgeting strategies. He was also a leader in developing and acquiring property for the law and justice center complex off Old Wards Ferry Road.
Pedro also played key roles in the county's response to disasters like the 1986 floods, 1987 Stanislaus Complex Fire, 2013 Rim Fire and last summer's Donnell Fire.
He was praised by the supervisors for his work ethic, dedication, and commitment to making the community a better place to live.
Pedro then was given the microphone to speak.
You can hear Craig Pedro's final statements as CAO by clicking here.
Pedro also received letters and proclamations from representatives of Senators' Kamala Harris and Diane Feinstein, Congressman Tom McClintock, Senator Tom Berryhill, Assemblyman Frank Bigelow, and others.   A retirement luncheon for Pedro was held this afternoon at the Sonora Opera Hall and attended by various community leaders.