Death Toll Increases From Camp Fire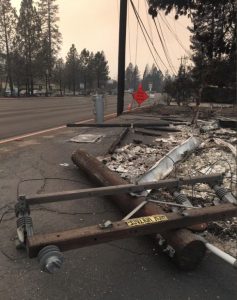 Camp Fire Destruction

View Photos
Butte County, CA — There are more confirmed deaths related to the 125,000 acre Camp Fire in the community of Paradise.
Butte County Sheriff Kory Honea stated at a press conference late last night, "An additional 13 human remains have been recovered, which brings the total number to 42. If I understand, that makes this the deadliest wildland fire in the history of the United States."
The fire is 35-percent contained. Authorities are bringing in two mobile morgue units and requesting 150 search and rescue personnel to look for additional victims. There are now 6,453 homes destroyed and 260 additional commercial buildings. 15,500 structures remain threatened. You can find a rundown of various ways to donate to the Camp Fire response by clicking here.