Ways To Help Those Impacted By Camp Fire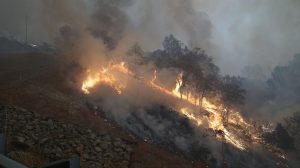 Camp Fire

View Photos
Paradise, CA — Numerous groups and organizations are helping residents impacted by the devastating Camp Fire in Butte County.
To view the latest information about the fire, which is the most destructive in the state's history, click here.
A later story also highlights a fundraiser being put on by Sonora Elementary School, click here. 
Below is a list of ways to donate:
From the Students at Gold Rush Charter School:
This Friday, November 16, from 9:00 am until 7:00 pm there will be a truck set up at the Mother Lode Fairgrounds to collect pet products for the victims. They will accept grass hay, hog feed, goat feed, canned dog food with pop top lid, cat food, chicken feed, 5 gallon buckets with lids and feed pans.
Gift cards, gas cards and donations are also accepted.
For more information you can call 209-588-3848. Delivery will be this Saturday
American Red Cross:
People interested in volunteering or donating as-needed may sign up with the Red Cross. The Red Cross has a volunteer page here.
* Or you can text 90999 to Help Donate $10.00 to The American Red Cross
Angels Camp Veterinary Hospital and Mother Lode Veterinary Hospital are coordinating a drive for those who have lost their homes or are displaced due to the Camp Fire. You can drop off any non-perishable food items (no glass please), animal food for any species, hygiene supplies, water, blankets, pillows, clothing, toilet paper, batteries, flash lights, pet bowls, pet crates, first aid supplies, kitty litter, paper plates and bowls, gift cards, scrub tops and bottoms or an other product you see fit to either location for a delivery they will be making on November 17. It is recommended that the items be dropped off during regular business hours of 8am-5pm, either at the office in Angels Camp or Murphys.
The United Way has a Camp Fire page where you can donate to the response. You can also text "BUTTEFIRE" to 91999 to make a pledge.
In addition, the Salvation Army has a Camp Fire donations page.