Power Restored In Second Tuolumne County Outage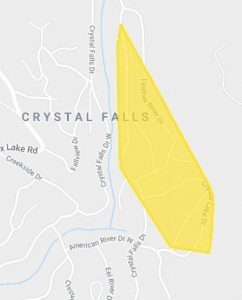 Crystal Falls power outage

View Photos
Update at 11 a.m.: PG&E reports that the electricity is back on for 171 customers that were without lights since around 9 a.m. in the Crystal Falls area. The company did not post a cause for the power outage.
Original post at 9:15 a.m.: Crystal Falls, CA — PG&E is reporting a power outage in the Crystal Falls area.
There are 171 customers impacted along Crystal Falls, Feather River, Russian River, Wasatch Mountain and Crystal Lake drives. The company reports that crews are on their way to the scene of the outage to investigate and determine a cause. A repair time of 11:45 a.m. has been posted by the company.
As reported this morning here, a fire in the area of Yosemite and Woodham Carne roads may be to blame for another outage affecting another 181 PG&E customers near the fire area. The repair time for that outage is in the 11 o'clock hour as well.