District Breaks Ground On '10,000 Square Feet Of Pure Health Care'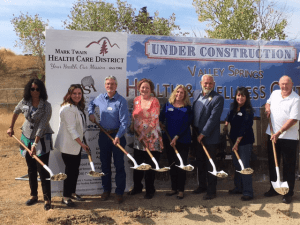 Valley Springs Health and Wellness Center Groundbreaking Sept 28 2018

View Photos
San Andreas, CA — If construction over the next 300 days goes as planned, a $9 million state-of-the-art center will soon after begin offering locals one-stop health care services.
Recently and officially named the Valley Springs Health & Wellness Center, the official ground-breaking ceremony for the project was held last Friday. Situated by the intersection of Vista Del-Lago and Highway at 51 Wellness Way, it is located on what will be a new street into the facility.
While Mark Twain Health Care District (MTHCD) continues to work under a recently renewed long-term partnership agreement with Dignity Health, which operates Mark Twain Medical Center, the new project constitutes the first time the district has taken on building a facility that it will run independently.
A Super Center By Next Summer
With soil testing at the chain-link fence-enclosed site underway today, Clarke Broadcasting shares MTHCD Executive Director Dr. Randy Smart's post-ground-breaking thoughts about the project timeline. "There is a 300-day construction contract so we will see things happen really quickly," he notes. "What we really want is to get the foundation and pad laid out before the weather gets too wet…then we can really do some construction over the winter and make progress. I am really hoping we can open the doors and have a grand opening next June…we are shooting for opening in June or July."
Describing the new center as "10,000 square feet of pure health care," Smart adds, "When I think of it…it's not really a clinic, it is a health center and I kind of think of it as a super center." By intention, the design is incorporating multiple services for visitors onsite, from x-rays and blood tests to chiropractic and dental work. There are plans to also make childcare available, he says.
"That is really what people want — they want efficiency and don't want things fragmented…and that is really our vision," Smart maintains. Adding to that, he says, are plans to integrate the onsite services with others already in place, such as at Mark Twain Medical Center. That way, if a referral for something like an MRI or CAT-scan — or to a specialist -– is necessary, communications between the entities are efficient and customer-focused to provide a seamless experience.
Regionally An Economic 'Big Deal'
Pointing to Valley Springs as the fasted growing part of Calaveras County, Smart confides that the district is projecting service demand of probably close to 25,000 appointments per year for the center. When it is up and running full-speed, it will also employ somewhere in the neighborhood of 35 people.
"We are doing a lot of operational and financial modeling and we are trying to build capacity to meet that so it will serve the Valley Springs community," he says. To that he adds, "That does not mean that people won't migrate or travel, because people in Tuolumne, Calaveras, and Amador [counties] do that all the time….it will basically be a clinic that will be available to anybody."
The Valley Springs area along with being a commuter community for those with jobs in Stockton and other cities, continues to attract retirees who want to retain access to the valley. Speaking particularly about the latter group, Smart notes, "People are retiring. There is something like 10,000 people every day who turn 65, and that is predicted to go on until about 2030." What those people are looking for in their retirement, he says, is to be near some sort of reliable health care.
By providing the new center in Valley Springs, Smart says the district is helping contribute not only a facility that is a big deal health care wise, but also a major economic draw for the county. "We are putting a lot of energy into this and are talking to a lot of people," he enthuses. "We want it to be a showcase for the county and maybe for the three counties…we want to lead the way [rural health care-wise], really."