Mark Twain Hospital Chooses To Re-sign With Dignity Health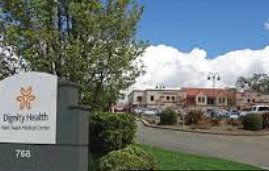 Mark Twain Medical Center

View Photos
San Andreas, CA — Although a local health care district maintained it was still actively considering becoming an independent operator its board has voted to re-up with Dignity Health.
This afternoon via an internal email, Dignity Health President and CEO Bob Diehl shared his pleasure at being able to report the MTHCD directors' 4-0 vote this morning to continue working alongside Dignity Health with a new affiliation. He also thanked employees, medical staff and volunteers for their interest, steadfast support, engagement and "activation" towards urging the Mark Twain Health Care District (MTHCD) board to continue what he called a successful affiliation between the two partners.
Last fall, district officials were for awhile in negotiations with Adventist Health, which operates several healthcare facilities in Calaveras County as well as a Sonora-based hospital and other facilities in Tuolumne County. However the company withdrew shortly after MTMC employees and staff began publicly voicing preferences and circulating petitions in support of maintaining the Dignity ties.
After many long months of deliberations, public outreach and negotiations, at today's district board meeting the directors had but two resolutions before them to consider. One outlined the terms of the new Dignity agreement; the other the subsequent ballot measure that would be put before voters to decide on the June 5 ballot. A recently completed valuation report, commissioned as a tool by the district at the end of last year provided validation for the board's final decision. To view the resolutions approved by the district board and other working documents, click here.
More Collaborative Approach To Local Healthcare Evolution  
Under the resolution pertaining to the new affiliation with Dignity, the new long-term lease will run for ten years with 20 years of renewal options intended to meet several objectives. There are also new processes that enable the district to have more input and oversight of local healthcare management.
The new partnership particularly outlines several community goals. Among these are to improve the health and quality of life of the communities served by the district and Mark Twain Medical Center (MTMC); improve the county-based healthcare system in order to maintain the full continuum of provided services; provide a stronger opportunity for developing and expanding hospital and physician services needed in the local community. It further includes providing superior quality healthcare at a competitive price and positioning the partners for meeting national and state health reform initiatives that impact healthcare delivery and reimbursement.
The board approved agreeing to its previously negotiated Jan. 18 term sheets for wind-up of the 1989 lease, which includes a transfer of most of the district's 50 percent ownership interest in the corporation it co-owned with Dignity. There is also a mechanism for the future allocation of corporate assets and contributions by Dignity, subject to voter approval for the transfer of assets.