Update: Tuolumne County Supervisors To Hear From Forest Service And PG&E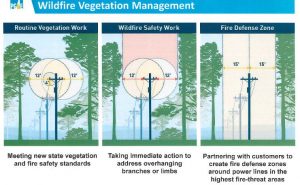 PGE Wildfire Management Graphic Oct 2018

View Photos
Update at 1:45pm: Noting that proposed and already completed tree work by PGE along the Highway 108 corridor has created concerns that are growing more heated, Tuolumne County officials are encouraging the public to attend or listen in on Tuesday's supervisors meeting.
Assistant County Administrator Tracie Riggs emphasizes that 10:45 a.m. is the slotted appointment time for utility representatives to present PGE's Community Wildfire Safety and Public Safety Power Shutoff programs. Those who cannot attend may listen in by clicking here and then onto the Tuolumne County Board of Supervisors link.
PGE officials state they are rolling out the program to bolster wildfire prevention and emergency response through new and enhanced measures to reduce wildfire risks. Among the activities they are performing is what is being termed as enhanced vegetation management in high fire-threat areas at no direct cost to the consumer; disabling automatic reclosing of circuit breakers and reclosers and also refining protocols for proactively turning off power during extreme fire danger conditions.
To view graphics from the utility's outreach brochure that illustrate how it has designated the county's wildfire risk areas into two tiers and its enhanced approach towards tree trimming in the vicinity of power lines, click into the image box slideshow.
Riggs adds that the county has been pressing for a community meeting on the topic as well and advises that anyone listening to tomorrow's presentation who may still have unanswered questions afterwards to call PGE at 1-877-295-4949 or email wildfiresafety@pge.com.
Original Post at 12:14pm: Sonora, CA — Tuolumne County leaders will receive presentations regarding the cleanup after the Donnell Fire, and ongoing efforts to remove hazard trees near power equipment.
Tuesday's board of supervisors meeting will begin at 9am in downtown Sonora. First, during the early portion of the meeting, there will be proclamations issued declaring October as Domestic Violence Awareness Month and October 7-13 as Fire Prevention Week.
During a 10:45am appointment, the supervisors will hear a presentation from PG&E officials regarding a Community Wildfire Safety Program that involves removing hazard trees in high fire areas. At 11:30am there will be president from county's Commission on Aging regarding 2018 goals. Then at 1:30pm there will be a presentation from leaders of the Stanislaus National Forest related to the Donnell Fire's impact and post fire analysis.
During Tuesday's meeting the supervisors will also vote to officially end the local State of Emergency related to the Donnell Fire.