Jamestown Man Convicted Of Attempted Murder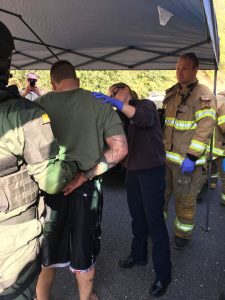 Christopher Clark in handcuffs

View Photos
Jamestown, CA – A Jamestown man has been convicted of attempted murder – a charge that originated after attacking his spouse and then barricading himself in his apartment setting off an eight hour standoff with law enforcement.
In connection with this incident, Tuolumne County District Attorney Laura Krieg announced that earlier this month a jury found 42-year-old Christopher Clark guilty of five felony counts that include: first degree premeditated attempted murder, inflicting injury to a spouse causing great bodily injury, false imprisonment causing great bodily injury, criminal threats, and resisting an executive officer with force or violence.
The charges stem from last October 12th, when deputies were called to Oak Hills Apartments on Preston Lane in Jamestown early in the morning for a severely injured victim, as reported here. The D.A.'s office details that on the stand, the victim stated that the night before she had told Clark she wanted to end their relationship. At one point, Clark asked, "Is that your final answer?" She testified that when she answered yes he threatened to kill her and started to strangle her. Next he repeatedly punched her and threw her into a closet door. As the woman tried to flee through a window, she says Clark grabbed her hair and began attacking her again. She shared that at one point she was able to crawl through the window and escape to a neighbors and call 9-1-1.
Clark was trying to clean up the victim's blood in the apartment when deputies arrived on the scene, according to testimony. He refused to come out of the apartment and  barricaded himself in the apartment after heThe testimony also revealed that the defendant had been trying to cleaning up the victim's blood during the eight hour stand-off, which ended when the county's SWAT team used tear gas to enter the apartment and take Clark into custody.
The D.A.'s office shares that Clark faces up to 18 years and 4 months plus 7 years to life in state prison. His sentencing date is October 15th.