Progress Constructing Universally Accessible Playground In Tuolumne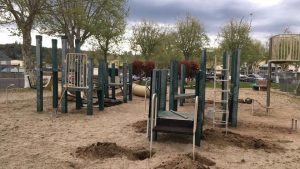 Big Dreams Playground Construction In Tuolumne

View Photos
Tuolumne, CA — There have been some unforeseen costs in constructing a new playground in Tuolumne, and the organizers are hosting an annual fundraiser this weekend.
We reported earlier that a groundbreaking ceremony was held in April for the roughly $340,000 Big Dreams Universally Accessible playground project just off the square in Tuolumne. It is at the site of the former playground constructed adjacent to the Tuolumne Veteran's Memorial Hall.
The new playground is designed to be accessible for all, including children and adults with disabilities.  It was spearheaded by local resident Sarah Garcia, whose daughter Ruby was the initial inspiration.
Giving an update on construction, Garcia says, "During the process, as with any other construction project, there have been some unanticipated costs. Interesting things have happened like discovering there was a swimming pool underneath the playground. It has taken a little bit longer than we anticipated, and the costs have been higher than what we were expecting. A lot of the contractors that we had been working with have been super busy this summer, so we ended up hiring out some of the work that we were anticipating being volunteer work."
While there was initially a hope to have the project completed around the start of September, the finish has been delayed by at least a couple of months. The work to this point has been carried out by volunteers, notably Clint Neher, Mike Mandell, James Roberson, Jesse Oliva, Doug James, Richie James, Clay Peterson, Covers Trucking and Chris Neher. There has also be a crew helping via the Tuolumne County Sheriff's Office.
This weekend will be the Big Dreams organization's Starry Night fundraiser. Garcia says the proceeds will go to cover the final construction costs, and any additional money raised will go into a fund in place at the Sonora Area Foundation where community members can apply for funding for local playground projects that improve accessibility.
Garcia says, "We're hoping that our event will continue every year until we have all of our parks updated, and every one of the playgrounds in our community is accessible. That is our next 'big dream.'
Tickets can be purchased through Friday at 5pm. Click here for more information.