Donnell Fire Response Transitioning To Smaller Team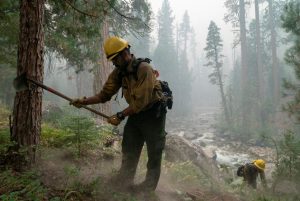 Working on Donnell Fire

View Photos
Tuolumne County, CA — 87-percent containment has been reached on the 36,400 acre Donnell Fire in the Stanislaus National Forest.
188 firefighters are currently assigned to the incident but the number will soon decline. Today, the type 3 Stanislaus National Forest incident command team will transition to a smaller type 4 team. Fire activity has been very minimal over the past couple of weeks. The Stanislaus National Forest BAER Team is working on soil assessment to investigate the burn severity of the Donnell Fire. The team will then make recommendations about things that need to be done ahead of the wet winter months.
Forest leaders also plan to reduce the closure area later today, and new maps are expected to be released. We'll pass along more information when it becomes available.
A timeline of our Donnell Fire news stories is here.