Record Breaking Year For California Wildfires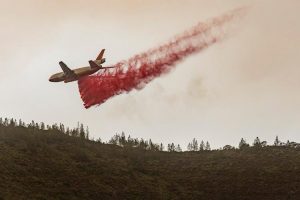 Ferguson Fire aircraft battling the blaze

View Photos
Sonora, CA — California has seen its largest fire on record this summer, and there have also been some records broken related to aircraft fighting the various incidents.
They are records everyone hopes will be avoided ahead of a fire season. CAL Fire has 13 air attack bases and 10 helitack bases (Columbia houses both). So far this summer, CAL Fire has dropped over 11 million gallons of retardant compared to 7.7 million gallons at this point last year. CAL Fire has also broken a record for the number of flight hours for the S-2T airtankers. The S-2T is used to provide fast initial attack delivery of fire retardant on wildfires. The number of flight hours through the end of August was 3,299, up 208 hours from the same point in time last year.
CAL Fire Chief Ken Pimlott says, "I am extremely proud of all the men and women of CAL Fire. I recognize the increasing demands placed upon our aviation program. We continue to build upon a program that will meet the challenges related to wildland fire in California into the future."
Two months into the new fiscal year that started on July 1st, CAL Fire has already spent $431-million out of a total budget of $443-million. CAL Fire has put in a request for an additional $234-million from the legislature. A big chunk of the budget has gone to fight the Mendocino Complex Fire that ignited on July 27 and has burned 459,123 acres. It is 98-percent contained.