Update: Summerville High Was Put On Lockdown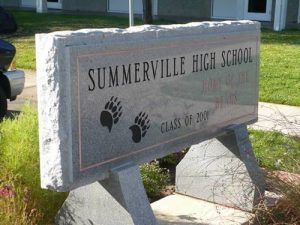 Summerville High School

View Photos
Update at 3:06pm: Summerville High officials are further clarifying actions taken to call for a temporary campus lockdown earlier this afternoon.
Superintendent Mike Merrill shares that at the end of the lunch period there was an issue with a student who was threatening to harm himself. "When administration said they were going to need to take the appropriate actions, the student decided to run across campus instead of staying in the administration building," he explains. So staff called for the lockdown as a precautionary measure to further enable law enforcement to arrive and help the student.
Altogether, the lockdown lasted about 50 minutes, Merrill says, at which time law enforcement personnel were able to talk with and convince the student to let them take him for help.
"[The student] was never a threat to any other students or staff or anybody else. He was never combative with any of our staff but just obviously just reaching out for some help…and that we will help to do," Merrill emphasizes. "I just want to reiterate that none of the rest of our staff or students were ever in any danger, but as a precaution we are going to take that [lockdown] measure."
Original Post at 2:58pm: Tuolumne, CA — Due to concerns related to one of the students on campus, there was a law enforcement presence at Summerville High School for a period of time this afternoon.
Superintendent Mike Merrill sent an email to parents stating that the campus was placed on lockdown at 1:30pm because one of the students refused to follow the directions of campus administration and started running across the property. Law enforcement was then requested to assist. Merrill stated there was not an immediate concern about the safety of the students, but the district decided to keep students locked in their rooms as a precautionary measure.
The student left campus and headed down Tuolumne Road. He soon returned, during the lockdown, and administration delivered him to law enforcement. The lockdown ended at 2:20pm. No additional information is immediately available.