Update: Suspicious Fire Ignites Near Sonora Bar Sparking Controversy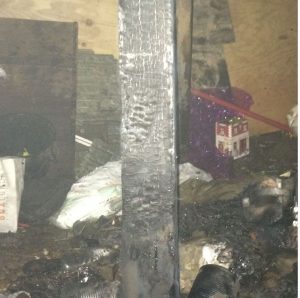 Burnt wooden beam under Intake Bar building
Update at 7:45 p.m.: We have an update on a fire that occurred earlier today. The owner of the Intake Sports Bar & Grill, formerly the Hot Shotz bar, James Franz, tells Clarke Broadcasting, "We just started getting smoke up in the building again and I came outside and smoke was rolling out the back and so I called Sonora Police." (For Franz's full interview, click here)
That call came into Sonora Police Department dispatch around 11:40 a.m. It was originally reported as a structure fire at the bar, located at 123 South Washington Street. Instead, Chief Turu VanderWiel details that the flames were found burning under the building by the Woods Creek Bridge on South Stewart Street near Theall Street. He details, "When we arrived on scene we found portions of the building support on fire. We were able to put the fire out from water from the creek stream."
Officers actually used a discarded bucket at the scene to scoop up the water and douse the flames. Some trash was also burning along the creek. The cause of the fire is under investigation. VanderWiel notes that while the blaze is being viewed as suspicious, no determination has been made in regards to whether it was intentionally set or if it was an act of carelessness.
Multiple homeless people have been reported in the area, according to VanderWiel, but it is unknown if transient activity played a role in the fire. However, Franz says, "It's like a homeless shelter down there." He wants something to be done to keep people out of the area adding incidents like keep reoccurring.
Sonora Fire Chief Amiee New confirms that just two weeks ago firefighters were dispatched for a report of smoke pouring out from underneath the building to find that someone had left a lit candle burning. She also noted that they found a busted sewer pipe from people climbing over it to walk along the creek, which had to be fixed.
The issue of putting up a fence has been discussed, according to New. She explains, "The city is going to be looking into who actually owns the right of way for the waterway and see if there is anything we can actually do to possibly restrict access to this area. At the same time, we want to make sure we are doing our due diligence with the waterway, any wildlife and anything that might be impacted." (Click here for New's entire interview)
Original post at Noon: Sonora, CA — Multiple responding units just extinguished a commercial structure fire in downtown Sonora that was reported shortly before the noon hour.
It was reported around 11:45 a.m. at the Intake Sports Bar & Grill, located at 123 South Washington Street. The establishment was formerly known as Hot Shotz. Avoid the area if you can right now due to responders' activity near the business, which includes looking for any extension of the fire into the building.
Although the cause has not yet been reported by officials, there seems to be a possibility that it could have been set intentionally under the business. We will provide more details as they become available.