Legislature Sends Major Wildfire Bill To Governor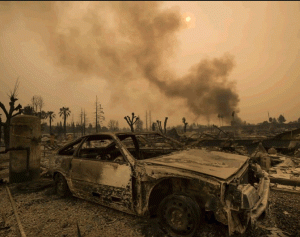 Fire Destruction In Sonoma County

View Photos
Sacramento, CA — The California legislature has passed a bill that will spend more money on forest thinning projects and also help utilities cover the costs of wildfires.
The bill passed in the Assembly 45-10, and in the Senate 29-4. It gained the support of Mother Lode Republican Assemblyman Frank Bigelow, but the region's Senator, Tom Berryhill, did not vote, as we reported earlier he has been missing from the capitol over the past few months.
The lead author, Democratic Senator Bill Dodd of Napa, noted that it streamlines forest practice regulations and reduces restrictions for removing dead and dying trees. It also creates incentives for land owners to fire treat their property, reduces CEQA requirements for timber harvesting if there is an assessment already done through NEPA and requires conservation easements for timberland to include long term fuel reduction commitments.
Funding allocated for the forest management projects will be $200-million annually.
The legislation also includes a controversial aspect that allows utility companies like PG&E to raise electric bills to cover the costs associated with wildfires. It is a practice that has been prohibited under state law, and the change comes after the utility raised concerns that lawsuits from last year's wine country fires could create financial ruin. Opponents say it is basically a government handout for PG&E. Lawmakers argued, however, that rate increases would be more beneficial to customers in the long run than the utility going into bankruptcy.
The bill was passed on the last day of the legislative session and heads to Governor Jerry Brown's desk for consideration.