Natural Barriers And Smokejumpers Aid Donnell Fire Suppression Efforts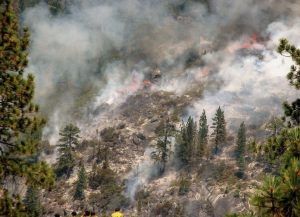 Donnell Fire

View Photos
Stanislaus National Forest, CA — The flames of the Donnell Fire have scorched another 604 acres on the Stanislaus National Forest bringing the total to an estimated 36,288 acres while the containment inched up to 63-percent. More details in a timeline about the Donnell Fire is here.
The number of personnel increased by 130 to 654 with resources on scene including 16 hand crews, 7 helicopters, 20 engines, and 5 water tenders. Forest Service Fire officials report the blaze continues to burn on the eastern perimeter into and within the Carson-Iceburg Wilderness. They add that the flames have changed from a continuous front to a mosaic or patchy pattern.
On the northern and eastern edge of the fire, the Redding Smokejumpers are helping to build and strengthen fire lines. The crew is also scouting areas to build fire line directly ahead of the fire, according to fire officials. Along the north side of the fire, crews are also looking for opportunities to confine and contain the flames with natural barriers.  In the south, a combination of mop up, patrolling for hotspots, fire suppression line repair and hazard tree mitigation are all ongoing.
Remaining off limits to the public are the fire closure area, the Pacific Crest Trail (from Highway 108 to Highway 4) and trails at the Carson-Iceberg Wilderness boundary. The only areas remaining open within the closure order are Highland Lakes Road (Forest Service Road 8N01) to Tryon Meadow and the Pacific Valley Campground. The closure area includes all residences and campgrounds along Eagle Meadow Road (5N01), the Highway 108 corridor, and the Clark Fork Road area. However, property owners can check with the Summit Ranger District regarding access permits. Highway 108 is still open to through traffic only – stopping is prohibited. Additionally, fire officials advise that the public to stay out of the closed areas for their own safety and that of the firefighters battling the blaze.