Summerville Preparing For Final Measure H Bond Projects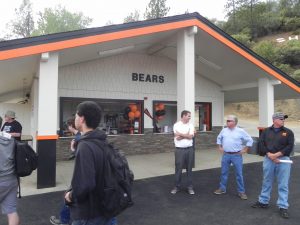 The new Summerville Snack Shack was an earlier Measure H project

View Photos
Tuolumne, CA — Summerville High School is hoping to request bids this fall for a couple of construction projects that will be funded by the $8-million Measure H bond that was approved by voters in 2012.
Around $4-million of the money was spent in 2014 to renovate Thorsted stadium. The extensive overhaul project included putting in a new track, field, snack shack and bleachers. Later around $300,000 was spent installing an Americans with Disabilities Act required path that stretches from the field to the administration building on campus.
New Summerville High superintendent Mike Merrill reports that the final two projects, a new art building and an outdoor eating structure, were held up for a lengthy period of time by the DSA (California Division of the State Architect). Just recently the district was made aware that the projects can proceed. He notes, "At this time we are looking to work with bond counsel, to get all of our front end documents organized, so that we can put together all of the bid specifications, and go out to bid for these projects. The hope is that somewhere between the end of September and early October we can get all of that taken care, be out to bid, choose who our general contractor will be, and start moving on these projects."
The art building project includes removing the existing art facility on campus and replacing it with one that it is updated and a little bit larger. Merrill describes the size of the existing building as being like that of a portable or modular structure. The outdoor covered eating area will be adjacent to the existing cafeteria and will not require removing any existing structures.
Measure H was approved at the same time as Sonora High School's $24-million Measure J Bond. We reported earlier this month on Sonora's final oversight committee report looking at the various projects and where the money was spent. Summerville does not have a similar report yet as the projects are still ongoing.