Winds 'Major Concern' For Donnell Fire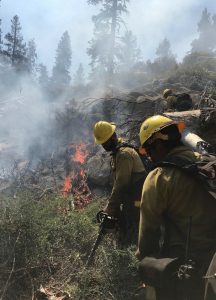 Donnell Fire

View Photos
Stanislaus National Forest, CA — Although more firefighters are on scene battling the Donnell Fire in the Stanislaus National Forest, the increase of gusty breezes forecast for this weekend along with a rise in temperatures have fire officials worried. More details in a timeline about the Donnell Fire is here.
Overnight the blaze grew 396 acres to a total of 35,684 while the containment remains at 62-percent. Ground and air resources continue to construct and improve lines around the fire's perimeter to increase containment, according to Forest Service spokesperson Kimberley Petersen. She adds, "The major concern right now is that we are still expecting to see southwest winds with gust up to 15 to 30 mph along the ridgelines and that's where the hand crews have been focusing their efforts." She notes that the drainages are aligned with wind direction so crews are working to limiting the spread north/northeast towards Boulder Lake and the Pacific Crest Trail.
Crews on the ground are assessing the Highland Lake area for building and improving containment lines to provide structure defense. They are also conducting suppression repair and hazard tree mitigation in the Eagle Creek Drainage area on Eagle Meadow Road (5N01). The personnel on scene has increased by 82 to 576. Petersen explains, "We have this new team in and they're putting another spike camp in over on the Highway 4 side to help in the fire effort."
Ground crews continue to work to bring hazardous trees down along Highway 108 and building containment lines. Petersen relays that they have noticed an increase in traffic on the roadway this weekend. She relays, "Several motorists has been caught stopping to take selfies, which is prohibited as the highway is open to through traffic ONLY, no stopping is allowed between Eagle Meadow Road (5N01) and Sonora Pass." She adds that the only exception is Kennedy Meadows including Baker Campground and Deadman Campground.