8 Featured Events This Friday And Saturday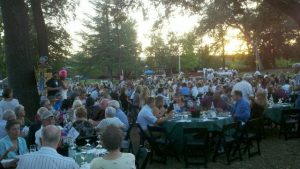 Meals On Wheels Fundraiser

View Photos
A review of upcoming events and activities planned in the Mother Lode.
The Calaveras Has Talent Contest is playing out live before a Bret Harte Theater audience in Angels Camp. Musicians from Amador, Tuolumne and Calaveras counties compete to win cash prizes and opportunities to perform at other venues in the region. The initial round of the youth contest will be 6-9 PM Friday, August 24. The initial round of the adult contest will be 3-6 PM Saturday and the grand finale featuring top contestants in both youth and adult categories will be 3-6 PM on Sunday. Ticket information is in the community event listing here.
Friday the Sonora High Wildcats host Ripon with the varsity game kickoff scheduled for 7pm, and the Summerville Bears will host Mariposa. The high school football schedule is here.
As Wednesday's KVML "Newsmaker of the Day" reported the 12th annual Meals on Wheels fundraiser will be held at Railtown 1897 State Historic Park Saturday August 25 from 5 – 9 PM with the theme 'Saturday Night Fever' celebrating the disco era with themed drinks, costume contests and atmosphere. More event details are here.
Saturday morning from 7:30 AM until 11:30 AM through October 20 the Sonora Farmer's Market is available on Theall and Stewart Street.
The Fishing For Freedom Bass Tournament at Don Pedro this Saturday is designed to introduce new members to the bass fishing community a team is required to have two people or one adult and two children and one team member must be an active or former US military member, law enforcement officer, EMS or firefighter. More event details are here.
If motorcycles are more your thing, enjoy the 7th Annual Sonora Moose Lodge Motorcycle Poker Run. Be ready to go at 9AM on Saturday, details are here.
The Sonora Action Network (SAN) is hosting a 'Confront Corruption Protest' at Courthouse park starting at 10AM on Saturday. To learn more about the protest view the details in the event listing here.
Saturday night at the Mother Lode Fairgrounds livestock area a Barn Bash to raise funds for their livestock department. The dinner will also feature a live music, auction and silent auction. Tickets available at the Mother Lode Fairgrounds more details are in the event listing here.