Update: Containment Jump On Donnell Fire As More Resources Arrive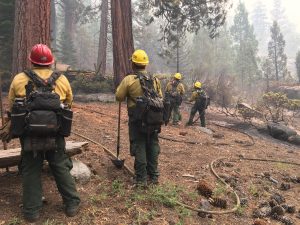 Donnell Fire engine crew extinguishing hot spots

View Photos
Update at 9 p.m.:  Crews made progress throughout the day battling the Donnell Fire's flames from the ground and air on the Stanislaus National Forest. A summary of Donnell Fire news stories is here.
The containment rose to 20-percent and the acreage held at 26,814. Incident Command reported moderate fire activity with the fire continuing its path towards Spicer Reservoir to the north, northeast towards Boulder Creek, and east along Highway 108.  The flames are skirting above the highway, but have reached within a mile of Kennedy Meadows as earlier reported. Fire crews are also dealing with hazardous trees along the Highway 108 corridor and around structures that have been impacted by the blaze.
The number of much needed personnel increased to 742 with Wildland Fire Fighting Crews that instead of returning to base camp each night, head out to remote areas and remain there for long periods of time. Such a unit has been assigned to the Spicer Reservoir and Carson Iceberg area to focus on suppression efforts there. Resources on scene include: 10 hand crews, 3 helicopters, 50 engines, 5 dozers and 9 water tenders, Although helicopter water drops are supporting engines and hand crews on the ground, fire officials admit more resources are needed. Some are already on the way, as they relay that additional hotshots have been ordered and should be arriving in the next few days.
Structure protection continues to be top priority for firefighters along the Highway 108 corridor and 5N01 (Eagle Meadow Road). Today's low winds and humidity helped to suppress the flames, according to Incident Command, which indicates that moderate fire activity is anticipated to continue overnight with potential for growth until the surface inversion layer develops. For further details on evacuations and why the number of structures destroyed decreased slightly view below.
Original post at 9:50 a.m.: Tuolumne County, CA — The Donnell fire has grown nearly 3,000 acres overnight to 26,814 acres but the containment also grew to 14 percent. Incident Command spokesperson Maria Benech shares, "We're excited to have more crews on and very excited that the containment percentage is up to 14-percent. A lot of that is along north Clark Fork Road where they got that buttoned up. So that's exciting to see for us."
Structural protection remains a priority for fire fighters along the Highway 108 corridor and 5N01/Eagle Meadow Road. Benech notes one area of concern, "The flames are about a mile or less from Kennedy Meadows. There is protection around that area, which is certainly a structure that we are going to work very hard to protect. They're taking steps right now to make sure that everything is treated that can be treated so when and if the fire gets to that location the structure is safe."
Another worry is the Red Flag Warning that remains in effect until 11 p.m. tonight. "We will be checking for hotspot and spot fires. There could be increased smoke in the area so air quality could be bad for surrounding communities like Sonora."
However, the lifting of the inversion layer will allow air support to fly throughout the day supporting engines and hand crews on the ground, which have grown to 730 personnel. "We actually were fortunate, we got a couple more hand crews in," relays Benech. "They're really focused on the Carson-Iceberg Wilderness west end and that north end Disaster Creek drainage area. These are back country crews that are going to fight that fire in the wilderness area and help us button up those two ends."
As reported here yesterday, helicopters are able to refuel quickly thanks to a retardant mixing and distribution station set up at the Leland High Sierra Snowplay park.
A mix up in the count made for a good surprise as the number of main structures destroyed actually went down by one from 55 to 54. Benech explains, "We had a little confusion with the cabin count. There was a cabin that was in our records but it actually wasn't there because it had already burned down in the past. So, that's why we corrected that number because that cabin was not destroyed in this fire." 81 outbuildings have been destroyed and 220 structures remain threatened.
Mandatory evacuations are still in place along Highway 108 from Eagle Meadow Road to Kennedy Meadows (all residences and campgrounds) as well as all along Eagle Meadow Road (5N01) and the Clark Fork Road area. Advisory evacuations remain in the Mill Creek area.