Update: Acreage Jump In Donnell Fire, Evacuation Advisories Remain In Place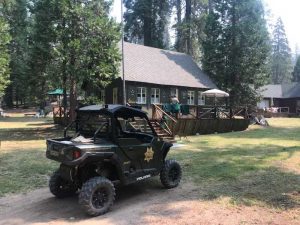 TCSO Deputies making evacuation advisories on the Donnell Fire 8-8-18

View Photos
A timeline of Donnell Fire news articles is here.
Update at 7:20 p.m.:  The acreage in the Donnell Fire burning in the Stanislaus National Fire has jumped by 4,127 acres to 17,941 acres while the containment dropped from five percent to four percent.
There is also an hike in the number of structures destroyed from 26 to 55 and outbuildings sitting at 81 burnt down. Resources on scene have increased to 563 personnel, seven hand crews, three helicopters, 34 engines, four dozers and four water tenders.
Incident Command reports that infrared flights allowed for more accurate mapping of the fires perimeter. Spokesperson Maria Benech relays today's fire activity, "The inversion layer did lift mid-morning. The good news with that is we had an opportunity to use a lot of aircraft on the fire to increase lines. The bad news is that actually increased pretty well." She continues, "The growth of the fire was going toward Disaster Creek drainage, which is on the northeast finger of the fire. It also progress south toward the Bennett Juniper Tree."(Click here for an earlier story on the historic Bennett Juniper Tree.)
In regards to overnight fire operations, fire officials note that  improved ventilation fueled the fire's growth this afternoon and it will continue this evening in Middle Fork Stanislaus and Eagle Creek drainages. Fire officials note that the blaze will remain active into and through night, but that significant movement is not anticipated as the fire behavior will consist of continued backing, flanking, isolated torching, and smoldering. Further details on evacuations are below.
Update at 11:25am: The Tuolumne County Sheriff's Office has placed the Mill Creek and Cascade campgrounds in the Stanislaus National Forest under an advisory evacuation notice. It is in addition to the mandatory evacuation order in place for the Highway 108 corridor between Eagle Meadow and Kennedy Meadows. The most recent size estimate for the Donnell Fire is 13,814 and there is five percent containment.
Update at 10:40am: The Donnell Fire incident command spokesperson Joe Tieso reports that there was less fire activity last night in comparison to recent evenings. It was due to the low smoke inversion layer. It allowed crews to get in and do further structure protection. Efforts have been focused on the Highway 108 corridor (in the evacuation zone) and on Forest Road 5N01. Heavy structure protection work has been taking place in front of Kennedy Meadows and the Douglas area and Seven Pines. A little bit warmer temperatures, and less favorable weather conditions, are possible later today. The latest official size estimate remains 13,814 acres with no containment.
Update at 9:40am: The Stanislaus National Forest began the process this week of notifying cabin permitees near the Donnell Fire about the state of their properties. We reported earlier that 1,120 structures are threatened and at least 26 are destroyed. Damage assessment is ongoing. The notification process will take several days to complete.
Original story at 6am: Tuolumne County, CA — The Donnell Fire's growth was minimal yesterday in the Stanislaus National Forest, but the acreage increased to 13,814 due to better mapping.
The heavy inversion layer limited fire activity, and the weather expected to be a little warmer today, with it lifting earlier. The fire has reached 5-percent containment. Air operations were very limited due to the smoke, but hand crews were able to put in several miles of line on the southwest side of the Stanislaus River.
A mandatory evacuation order remains in place for the Highway 108 corridor from Eagle Meadow to Kennedy Meadows. 22 miles of Highway 108 is closed from Eagle Meadow to the Tuolumne/Mono county line. 1,120 structures are considered threatened and at least 26 have been destroyed.
There are 517 firefighters on scene, 34 engines, seven hand crews, four dozers, four water tenders and four helicopters.
To view a recap of the fire's activity yesterday, click here.
To view detailed maps, click here and here.