Update: Community Hears Latest On Donnell Fire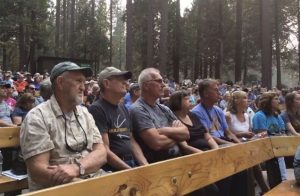 Donnell Fire Community Meeting

View Photos
Update Aug 27: The fire closure area remains in effect between Eagle Meadow and Kennedy Meadows where thru traffic only is being permitted along Highway 108. The only areas that are currently open are Kennedy Meadows Resort, including Baker and Deadman campgrounds.
For a Donnell Fire timeline summary and a link to the most recent news story click here.
Update Aug 6 at 8:30pm: Officials with the Donnell Fire Incident Command Team, Stanislaus National Forest, CAL Fire, Tuolumne County Sheriff's Office, and other agencies spoke at a community meeting held this evening at the Pinecrest Amphitheater. Information about strategy and challenges were shared with the many on hand. Incident Command leader Jim Harris noted that the smoke inversion layer stayed relatively low today which limited fire activity. In addition, the winds were minimal, compared to recent days. This helped crews work on structure protection in the evacuation zone. Hotter and drier temperatures, however, are in the near term forecast.
Bob Newman, an operations section chief gave a brief recap of the fire's jump over Highway 108 yesterday afternoon. Winds were moving at around 30 mph and embers were falling like rain. He said a number of structures were lost, but some remained standing. We reported earlier that the Dardanelles Resort was among those burned down.
Right now the incident command team is only focused on structure protection, and once the threat is mitigated, and more resources arrive, the team will turn its focus to containment. Newman said, "A big event like this is one bite at a time, and sooner or later, you'll eat the elephant."
The latest size estimate is just over 11,000 acres, but the team on hand stated that they know it is much larger at this point. It may not be until late this evening, or early tomorrow, when a new size estimate is released.
It was emphasized that a "lack of resources" is the most glaring challenge. Nationally, there are 60 large fires un-contained, and the country is at "National Preparedness Level 5," the highest you can be. It is making it very difficult to attain resources for the various incidents.
Update at 5:38pm: Caltrans officials announce that a 22-mile stretch of Highway 108 is now closed due to the Donnell Fire with no estimated reopening date.
The closure point is between Eagle Meadows and the Tuolumne/Mono County line on Sonora Pass.
With the heavy smoke conditions across the Mother Lode along with highway road closures due to the Donnell and Ferguson fires, local tourism officials are sending updates via their outlets and encouraging those planning visits near impacted areas to call ahead to their destinations for the latest information. Tuolumne County Visitors Bureau Executive Director Lisa Mayo if people do choose to visit or are already in the area, most businesses are remaining open for what is normally a very busy summer season.
Expressing gratitude to all the fire responders she adds, "As these fires burn in the area, we are reminded of the fragile beauty of this place we get to call home. Our thoughts and prayers are with our friends and neighbors directly impacted by these fires."
Update at 2:42pm: New figures in for the Donnell Fire describe it as at 11,074 acres with two percent containment; size reduction occurs with more precise mapping.
Update at 12:05pm: A leader with the Donnell Fire Incident Command team has given an update to Clarke Broadcasting about efforts to protect areas like Kennedy Meadows and assess the damage at the Dardanelle Resort.
Jim Harris, an Incident Commander Trainee with the Central Coast Interagency Incident Command Team, says it will be a while before detailed specifics are known about the Dardanelle Resort and surrounding cabins and campgrounds. He notes, "We haven't been able to break anyone off to do what we call damage assessment, and find out what has been saved and what has unfortunately been lost, and get all of those exact details."
We confirmed earlier that the Dardanelle Resort was burned by the fire.
There are 300 firefighters assigned to the 12,000 acre Donnell Fire, and that includes overhead, the management team, and logistics.
Harris adds, "The firefighters we do have are stretched really thin, and we don't have enough firefighting resources to address everything we'd like. They have all been prioritized and only engaged in structure protection and defense at this time."
A mandatory evacuation order remains in place for the Highway 108 corridor from Eagle Meadow to the Kennedy Meadows Resort.
All of the remaining structures along the Highway 108 corridor, which haven't been hit by the fire, such as Kennedy Meadows Resort, are being treated and prepped for structure defense, and very much remain threatened.
Harris says, "What's happening is that along that river (Stanislaus) drainage, in the afternoon the wind is blowing up the drainage, and we are getting gusts of 20-30 mph. As the fire grows, it is also adding to the wind, and it is becoming very erratic and fire activity increases dramatically from around two in the afternoon until seven o'clock at night."
A mix of air and ground resources are assigned to the incident, including air tankers and DC-10's. However, there has been a limited window to drop water and retardant due to an inversion layer that has been making visibility difficult in the morning and early afternoons.
A positive tidbit is that once the fire moves past the evacuated area along the Highway 108 corridor, it will primarily be burning within an isolated wilderness region without structures.
Harris notes, "Being optimistic, we think we can corral this thing, within the wilderness, after we are done mitigating all of the current structure threat."
More resources have been ordered and will continue to arrive over the coming hours and days.
Update at 10:00am: The Pacific Crest Trail has been closed from Highway 108 to Highway 4 as of August 6th due to the proximity of the Donnell Fire.
Update at 9:40am: Tuolumne County is declaring a local State of Emergency due to the wildfires. Click here to view the story. It includes new information about the damage at the Dardanelle Resort and structure protection efforts near Kennedy Meadows.
Update at 8:50am: The Forest Service reports that the Donnell Fire in the Stanislaus National Forest is now 12,000 acres and there is only one percent containment.
The fire has been primarily burning along the north bank of the Middle Fork of the Stanislaus River in steep and rough terrain through heavy amounts of dead and dying trees. Getting needed resources has been challenging, according to the Forest Service. Other local incident command teams have been sharing aircraft and personnel as needed. At one point over the weekend a DC-10 was assisting.
We reported earlier that the fire did heavy damage through the Dardanelle and Brightman areas, and several structures were destroyed. No additional information has been made available this morning. Highway 108 is closed at Eagle Meadow, approximately 13 miles east of Strawberry.
A timeline of our news about the Donnell Fire since it started on August 2nd is here.
Original story posted at 5:30am: Tuolumne County, CA — The Forest Service reports that the Donnell Fire jumped Highway 108 at Brightman Flat yesterday which forced crews to disengage from the fire's intense edge.
As a result, it destroyed numerous cabins and structures in the area of Dardanelle Resort and Brightman Flat. The Forest Service reports, "An assessment of the amount of loss cannot be conducted safely or accurately until daylight hours…Fortunately the areas affected by the fire were evacuated early on August 5, resulting in no known injuries or fatalities."
The fire is considered 6,000 acres and there is 2-percent containment. 273 firefighters are assigned to the incident, five hand crews, three helicopters and 11 engines. Due to other large fires in the state, resources are being ordered and filled as they are available, according to the Forest Service.
A larger Central Coast Interagency Incident Management Team assumed operations yesterday morning. A mandatory evacuation order remains in place for the Highway 108 corridor between Eagle Meadow Road and Kennedy Meadows, including all campgrounds and residences. Highway 108 is closed at Eagle Meadow.
A Donnell Fire public meeting has been scheduled for 5pm today at the Pinecrest Amphitheater and anyone can come and ask questions to fire managers.
To view a recap of the fire from yesterday, click here.