Update: Mandatory Evacuations For Donnell Fire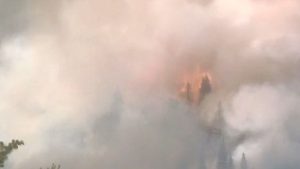 Donnell Fire Buring on the Stanislaus National Forest 8-3-18
A timeline of the Donnell Fire is here.
Update at 5:15 p.m.: Mandatory evacuations have been ordered for the now 600 acre Donnell Fire burning in the Stanislaus National Forest. The Tuolumne County Sheriff's Office issued the evacuations for the areas of Wagner Tract, Clark Fork Road, Camp Liahona and Sand Flat. There are 30 structures threatened and a total of 165 personnel on the scene. Further details on the fire activity and suppression efforts are below.
A special thanks to our community partner Aaron Clark for sending in the new video.
Update at 1:30pm: US Forest Service spokesperson Diana Fredlund reports the Donnell Fire in the Stanislaus National Forest is now up to 500 acres and there remains no containment. 30 structures are considered threatened. The campgrounds and facilities near Clark's Fork remain under an advisory evacuation notice. A total of 93 firefighters are assigned to the incident, including two hot shot teams, two helicopters, two engines and two hand crews. Officials have not yet determined a cause of the fire.
Original story posted at 8:55am: Tuolumne County, CA — Firefighters will be busy today working to hopefully gain some containment on the 400 acre Donnell Fire burning in the Stanislaus National Forest.
Spokesperson Diana Fredlund notes that two hotshot crews, which each have anywhere from 18-21 firefighters, have arrived at the incident. She adds, "One hotshot crew is from the Stanislaus, and the other is the El Cariso hotshots from the Cleveland National Forest (Southern California). There are evacuation advisories for the Clark's Fork area, which includes several organizational camps and the forest's campgrounds. They are just advisories at this time."
She adds, "The fire is in a very remote and rugged part of the forest, not too far from the Donnell Vista (off Highway 108), and that makes it really hard. There is steep terrain and extremely dry and difficult conditions. That's why we are really counting on our hotshots to help us out because they have the expertise to be in those conditions."
There are also two helicopters assigned to the incident and some additional ground resources.
To read a recap of the fire from yesterday, click here.