Brown Addresses Concerns Over State's Raging Wildfires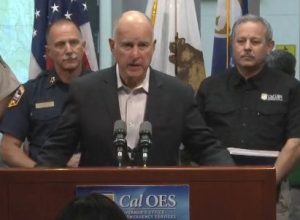 Governor Jerry Brown speaks at CAL Fire OES meeting Aug 1 2018

View Photos
Sacramento, CA – As several wildfires continue to ravage the state, Governor Jerry Brown addressed response and public safety concerns at a joint multi-agency meeting.
This morning, California's top emergency management officials, including the leaders of the Governor's Office of Emergency Services, CAL Fire, CHP and California National Guard also attended the session, which was held at the State Operations Center in Mather.
Among the takeaways, Brown said even though firefighting costs exceed budgeted expectations, the state has deep pockets due to its "rainy day" fund and is in good economic shape to spend whatever it takes to fight the disastrous fires, of which several have generated state and federal declarations.
Unchartered Wildfire Behavior
Still, he acknowledged, fire seasons are now so much longer — and the fires so much bigger. "Every year is teaching fire authorities new lessons. We are in uncharted territories. Since civilization emerged 10,000 years ago we have not had this kind of heat conditions and this can continue getting worse…that is the way it is," he stated.
"Some people do not want to accept and some people outright deny it and I don't say it with any great joy here but we are in for a really rough ride," he continued. "It is going to get expensive…dangerous… and we have to apply all our creativity to making the best out of what is going to be an increasingly bad situation — not just for California but for people all over America and all over the world."
Asked about his proposal to move SB 901 through the State Legislature for its consideration, to update rules and regulations for utility services in light of changing climate and the increased severity and frequency of weather events (as reported here), the governor replied that the issue was part of a broader picture to address an environmental, economic way forward. He maintained that state lawmakers were better equipped to provide solutions than a three-judge appellate panel that would write a decision based on common law principles from 100 years ago.
Seeking A Reasonable Balance
"We expect thoughtful people to reflect on this — this is serious business — and how do you want to handle it. There are a lot of people who can tee off from their particular interests but we want the legislature to represent all the people and sift through the various claims — and we will be part of it — we will help and give them the best thinking we can," Brown emphasized.
In terms of the proper rule of liability and these costs are allocated, he countered, "If you are going to say that it is the utility forever, there won't be utilities — there will just be public agencies and it will all go through the tax system. So, there are a lot of issues…people on different sides…but my goal was to find a reasonable balance that would reward players, including utilities, for doing the right thing — but make them liable when they did not take the steps that common sense and prudence would warrant."
Weighing in on questions as to how well local warning systems were working to inform people living in fire incident areas, Brown pointed out, "We are not in a perfect world, we are living in uncertainty…no one expected a fire tornado – new phenomena. We are in a new weather climate era. We are learning as we go," he stated. He further expressed great admiration and appreciation for the front line of incident responders, who literally are placing their own lives on the line to save others' lives and properties.