Mountain Counties Voice Alarm Over State Water Plan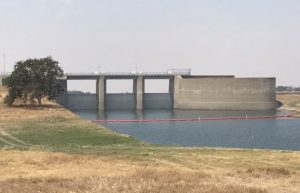 Don Pedro Reservoir

View Photos
Sonora, CA — An organization, whose members include many local water agencies and counties along the Sierra Nevada, is voicing out against state plans to increase flows from the Stanislaus, Tuolumne and Merced rivers.
We first reported on the planned actions by the State Water Resources Control Board on July 18 (click here to read the earlier story). It was also a big discussion point when President Trump's Secretary of Interior Ryan Zinke toured the Mother Lode on July 20 with Congressmen Tom McClintock and Jeff Denham.
Jeff Kingsbury, Executive Director of the Mountain Counties Water Resources Association, further discusses the matter in the latest myMotherLode.com blog entitled, "Don't Sacrifice The Watershed." He argues that the move designed to benefit the fish population would have detrimental effects on rural communities and fire protection.
You can read the blog by clicking here.
Members of the Mountain Counties Water Resources Agency include local counties like Tuolumne, Calaveras, Mariposa and Amador, as well as the Calaveras County Water District, Twain Harte Community Services District and Tuolumne Utilities District.