State Water Regulators' Plans To Impact New Melones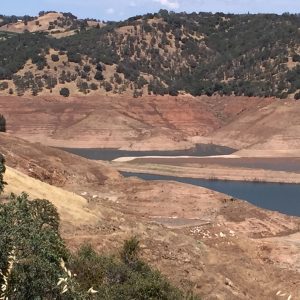 New Melones low water levels-6-1-2015

View Photos
Sonora, CA –- The future of New Melones as a storage reservoir or recreation destination may well be in jeopardy, according to regional water officials.
This news comes as the California State Water Resources Control Board (SWRCB) attempts to finalize what many stakeholders consider recently released draconian plans that call for 30 to 60 percent unimpaired flows from February through June through the Lower San Joaquin River and its tributaries —- the Stanislaus, Tuolumne and Merced rivers.
The board, which took nine years and more than $70 million to finalize draft plans, was tasked to balance multiple valuable uses of water, including for fish and wildlife, agriculture, urban and recreation.
'Water Grab' For Fishes' Sake?
The reason being given for the board's decision to ratchet up the flow requirements, "to prevent the total collapse of fisheries," is highly arguable among those who say the board is outright ignoring decades of locally gathered river science.
Oakdale Irrigation District General (OID) Manager Steve Knell, in an interview with Clarke Broadcasting, outright laments the Water Board's latest leanings towards adopting the latest draft, saying it does not consider the needs and preferences of multiple stakeholder groups. OID and the South San Joaquin Irrigation District (SSJIR), as Tri-Dam Project partners, operate and maintain the Donnells, Beardsley and Tulloch projects on the Middle Fork of the Stanislaus River in Tuolumne County.
"They didn't listen to us – that's the bottom line – they didn't hear us…they took nothing of what we had provided…in the past six years into the document at all," Knell says dejectedly. "It is very frustrating for people to consume so much time and efforts to get a good plan together…even develop alternative plans for consideration — and to have all of that rejected after all those years is just disheartening."
Another reason for ire that Knell points to is what he describes as the board's insistence to largely base its modeling on fisheries management practices in Washington, Oregon and Montana, where the conditions and climate are very different. "[The regulators] are not investing in finding out what is good for California rivers…we have been investing a million dollars a year on [local] science, trying to educate them on what works and they are not listening," he states emphatically.
Entreaties To Consider Local Science
Tri-Dam's population numbers are derived by photos taken of every fish as it swims through the weir in Riverbank, which also help determine their origin. Knell shares that they are all fishery-spawned; that the Stan has no natural reproduction of salmon; and that the river has one of the strongest, healthiest salmon runs of the three tributaries.
Although stakeholders on the three rivers have put forward fishery plans for each tributary while working with Governor Jerry Brown's Office on voluntary settlement agreements, Knell says they have not heard anything substantive back. With regard to fishery plans for the Stan, "We have been waiting since January of this year and we are still waiting — and the more time that transpires, the less likely there will be any ability to negotiate," he says worriedly.
Although the local Bureau of Reclamation office, which manages New Melones, recently met over the matter, Knell shares that it informed the Tri-Dam partners it had not yet decided how it would proceed. "This is going to desiccate New Melones as a storage reservoir or storage facility," Knell comments glumly, adding that he hopes the Bureau "gets its act together" soon, evaluating the impacts to the local economies and hopefully joining the protests against the plan.
Impacts On Economy, New Melones
Tri-Dam contrasts the estimated billions of dollars in annual economic losses just within Stanislaus, San Joaquin and Merced counties with the state's own estimate that increasing the unimpaired flows would generate just 1,100 in "new" salmon in the Stanislaus and other two involved rivers. The state's plan also acknowledges that it could result in what many call a "regulatory drought," when supplies for people, agribusiness and recreation are limited — even in average rainfall and snowfall years.
The board's document refers to the economic consequences as "significant and unavoidable" without offering any ideas to mitigate them, Knell criticizes. Another somber statistic outlined in a list of potential impacts within the state's plan is that New Melones Reservoir could go dry some dozen times every 95 years.
"Essentially, you are going to have an unusable reservoir for recreation probably three or four years out of eight because as soon as it fills up, they empty it," Knell predicts. Too, he says, the warmer water that flows downstream as the reservoir depletes negatively impacts the fisheries with detrimental effects on the basin.
Plans Include A Protest
Knell complains that not only are the latest requirements more impactful than what was previously presented to the public, there seems to be little more in the way of data that can be presented to the board that might help sway it. He shakes his head ruefully. "Not letting us comment on what's more onerous…that is just wrong…unthinkable that our political entities in Sacramento would allow that to occur…it is going to be one of our legal complaints," he states.
Asked how locals interested in weighing in might respond at this point, he replies, "I don't think writing letters does any good any more, unfortunately. So I think that once we have notice — if there is going to be a rally and when it is going to be — we will make that information available…and I think the best thing one can do is bring your face up to Sacramento, stand there with the rest of us and say 'this stinks'."
Aug. 21-22 are the dates when the board will be holding its final public meetings at CalEPA Headquarters in Sacramento. If and when tentative plans for an official protest firm up, Knell promises, "We will make sure that everyone in our region knows."