California Bill Calls For 100-Percent Renewable Energy By 2045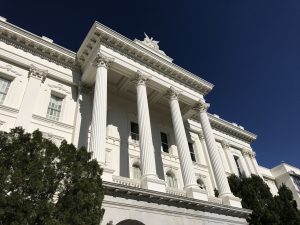 California State Capitol Building

View Photos
Sacramento, CA — A bill passed an Assembly committee test this week that aims to phase out non-renewable energy sources in California by the year 2045.
Senate Democratic Leader Kevin de Leon introduced Senate Bill 100, which would increase California's renewable energy mandate from 50-percent to 60-percent by 2030, and then set a goal of eliminating all carbon based energy sources by 2045. De Leon is in the midst of a run for US Senate against fellow Democrat Diane Feinstein.
The bill passed in the Assembly Energy and Utilities Committee with a 10-5 vote and it now moves to the full Assembly for consideration. Critics argue that it would increase energy prices and drive businesses to other states. If approved, California would follow Hawaii and become the second state to set a no-carbon goal by 2045.