Health District Shares Valley Springs Clinic Update, More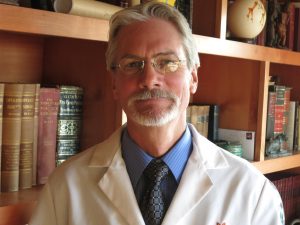 Dr. Randy Smart Mark Twain Health Care District Executive Director

View Photos
San Andreas, CA — Under its new partnership with Dignity Health, which continues to run Mark Twain Medical Center, the local health care district, flush with funds to expand local rural health care is busily rolling out plans.
Among recent developments, according to MTHCD Executive Director Dr. Randy Smart, is progress on the pre-construction phase of the district's new Valley Springs health clinic, which it will run independently from Dignity Health. At the board's last meeting it agreed to name the street where it will be located "Wellness Way" and is still kicking around possible names and acronyms for the actual facility. He wryly confides, "We don't want to call it the Valley Springs Clinic — that is not very creative or fun."
Over the moon about how the project is progressing through the planning stages, Smart states, "We are so committed to building a clinic, and it is a 10,000 square-foot clinic…a good size with 15 treatment rooms, exam rooms and x-ray rooms." Set to sign loan documents with USDA on Aug. 1, he says things will be full steam ahead after that. "I think in the first week of August we will have bulldozers and other equipment out there — and less than a year later we are going to open the doors. To me, that is one of the most exciting things we are doing," he says enthusiastically.
Envisioning The New Clinic
He adds that he is already hearing from people interested in working at what will be a completely state-of-the-state equipped clinic. Recently, a dental component was added so there will be a part or full-time dentist onsite. Other elements include behavioral health resources and possibly some pediatrics and orthopedics.
Smart comments, "It will be kind of a robust clinic. You will be able to get your blood drawn there…x-rays. The idea is if you walk in virtually everything you need you can get and you don't have to run all over the county with a bunch of paper."
In other business, he describes last month's district board meeting as "transformative," now that the district is stepping into a much bigger role as a local healthcare leader. "We are trying to redefine ourselves as not just a district that runs a hospital but a district that is actually doing more for healthcare in the community."
Targeting Opioid Crisis, Elder Falls
Among other items currently in the works is a collaborative multi-agency coalition being spearheaded by Calaveras County Chief Health Officer Dr. Dean Kelaita to address the alarming rise of opioid abuse in the area. Smart says the district will participate in helping support a collective vision plan defining problem scope and solutions so that all the stakeholders can avoid "becoming a bunch of people who bump into each other without getting anything done."
Another district endeavor literally gaining traction is to help the county's aging residents "stay vertical." Harkening back to the 1960s and '70s, Smarts says that heart attacks and strokes were the big epidemics; in the 1980s it became more cancer. "We thought the epidemic of this century would be dementia and brain failure and I think we were wrong — it is falling and dying," he says emphatically.
"It's aging boomers, some living in complex environments and people are falling, breaking bones and dying — it is a big deal," he continues. "If you look at some of the data from the National Council On Aging, every 11 seconds somebody falls and breaks a bone, every 19 minutes somebody dies from that…and the numbers approach 300,000 a year…from the consequences [and ensuing complications] of breaking a bone. It is true in the state and county."
Helping Boomers 'Stay Vertical'
To proactively address the issue, the district in conjunction with the Murphys Senior Center and other county entities is now developing an intervention program he expects will be funded in July. Among the components are offering balance and Tai Chi classes. In fact, by National Fall Prevention Day on Sept. 22, Smart notes there will at least be some underway in the county.
Further stressing the needs, he maintains, "If you have two identical people over 65 — one has a heart attack and one falls and breaks a hip – it is more likely the fall victim will be dead in a year. They don't die of the broken bone, it is loss of mobility…complications."
Plans include adding means of screening patients in the ER, during hospital discharges, even at appointments to find out how many times they might have fallen in the past year in order to determine whether they are at high risk for another incident. Chances are, he says, especially among those over 65, that those who sustain a fall injury are 50 percent more likely to sustain another one. Plans may additionally include doing home screenings to help remove potential stumbling obstacles and offer other environmental improvement ideas.