County Hoping To Fast-Track Repairs On Ferretti And Marshes Flat Roads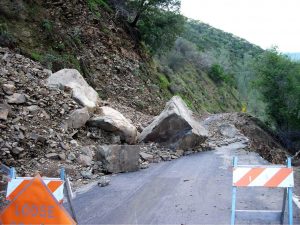 Archive Photo - 2017 Rockslide On Marshes Flat Road

View Photos
Sonora, CA — Over the past two winters, Tuolumne County has sustained nearly $15-million in storm related road damage.
It was indicated at today's board of supervisors meeting that the top-two current priorities are repairing the damage from the winter of 2017 done on Marshes Flat Road and destruction this past March on Ferretti Road.
The Board voted to allow Community Resources Agency Director David Gonzalves to approve things like plans, specifications and working details related to the two projects. Typically those are all approved by the supervisors, but there can be a delay in action because meetings are held only twice a month. The final construction contract for both projects would still need to be formally approved by the supervisors. The vote was 5-0 to give Gonzalves the expanded authority. District Three Supervisor Evan Royce praised Gonzalves and Assistant County Administrator Tracie Riggs for bringing the item to the board. He stated, "I really appreciate you being aggressive about this."
As for a timeline, after the reviews, bids and contracts are in place, the county has indicated that construction to repair the damage on Marshes Flat Road will likely run late into 2019 and construction on Ferretti Road through December of this year. Members of the board of supervisors were notably concerned about the fire risk in the Marshes Flat Road area during the upcoming summer months, and directed Gonzalves to reach out to CAL Fire to see if there are ways to ensure proper fire resources can still access that region.