New Tuolumne County Courthouse Still In Governor's Budget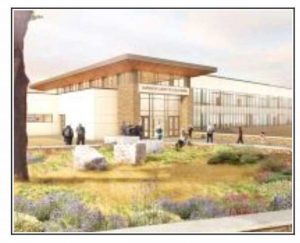 Proposed Tuolumne County Courthouse

View Photos
Sonora, CA — As Governor Jerry Brown's budget continues to evolve plans to fund Tuolumne County's new courthouse apparently remain in the latest May revision.
Today, when Clarke Broadcasting queried Mother Lode Assemblymember Frank Bigelow's office about the status of funding for the courthouse project, staff recalled that in the Governor's January budget, Brown proposed selling $343 million in lease-revenue bonds to finance the construction of five court projects in the 2018-19 fiscal year, including the new Sonora Courthouse in Tuolumne County.
They note that the May revision not only does not change that, it proposes selling an additional $971 million to finance the construction of five more such projects in the coming fiscal year instead of pushing them into the 2019-20 budget, as proposed in the January version.
As reported here on Jan. 12, the courthouse plans call for it to be constructed at the county's long-planned law and justice center property off Old Wards Ferry Road. While the project has been in the works for many years, it has been tied up due to the need for the necessary final state funding.
The jail portion of the complex, which is being paid for through other funding channels, recently got underway. As reported here, at the Feb. 6 groundbreaking for the new jail facility, which is being named for Sheriff J.H. Dambacher, the longest serving Tuolume County Sheriff to date, it was estimated that construction will take just over a year-and-a-half.