Tuolumne County Courthouse Funding In Governor's Proposed Budget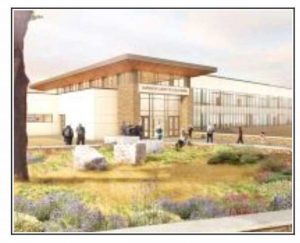 Proposed Tuolumne County Courthouse

View Photos
Sonora, CA — Funding to build Tuolumne County's planned courthouse is included in California's proposed budget released this week.
Tucked into the 272 page budget proposal, is the announcement that funding is tentatively planned to be allocated to build 10 courthouse projects that are currently in development, including Tuolumne County. Construction would begin in fiscal year 2018-19, based on the proposal.
Governor Jerry Brown's releasing of his budget is the first step towards multiple negotiations that will take place over the coming months before the final budget is adopted prior to July 1st. The Judicial Branch of California notes that Tuolumne County's planned project, to be constructed at the new law and justice center property off Old Wards Ferry Road, would cost the state $64-million, be 61,537 sq. ft., and consist of five courtrooms. The project has been in the works for many years, but construction has not commenced, due to the need for final state funding.
On a somewhat related note, Tuolumne County officials announced this week that the ground breaking for the county's new jail, for which funding has already been secured through state and local sources, named the Sheriff J.H. "Jack" Dambacher Detention Center, will be held on Tuesday, February 6.