Construction Begins On Sheriff J.H. Dambacher Detention Center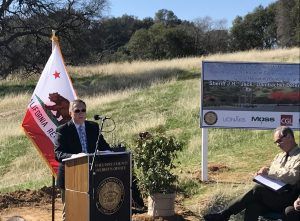 Gary Dambacher speaks at the groundbreaking for the new jail
Sonora, CA — Tuolumne County leaders broke ground this afternoon on the 63,000 sq. ft. new jail facility at the law and justice center site off Old Wards Ferry Road.
The $39-million jail will be nearly two times the size of the existing facility in downtown Sonora. It will be able to house nearly 239 inmates, compared to 147 at the current location. $33-million of the project's overall construction costs are coming from state grant money, $20-million from SB 1022 and $13-million from AB 900.
Tuolumne County Sheriff Jim Mele was the master of ceremonies at the groundbreaking ceremony, and he noted that the project has been in the works for over 20 years. Other speakers included board of supervisors chairman John Gray, chairwoman of California's Board of State Community Corrections Linda Penner, and Gary Dambacher, one of the grandchildren of the facility's namesake, Sheriff J.H. (Jack) Dambacher.
Sheriff Dambacher, known as "The Black Hat," served 24 years in office, the longest ever for a Tuolume County Sheriff. The speakers noted his "commanding presence," popularity, and reputation as one of the "finest sheriffs ever to serve" in the state. He did so with a prosthetic leg.
The facility is expected to take 19 months to build and will be spread over 48 acres. For comparison sake, it will be nearly the size Adventist Health Sonora's new Health Pavilion and Diana J. White Cancer Institute under construction on Mono Way (65,000 sq. ft.).