Storm Ravaged Spicer Road Repairs To Begin In Forest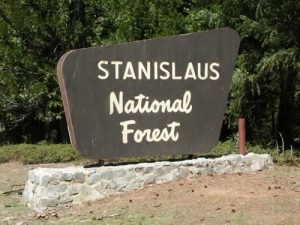 Stanislaus National Forest

View Photos
Sonora, CA – Motorists can expect delays along the Spicer Road (Forest Road 7N01) on the Calaveras Ranger District in the Stanislaus National Forest into the middle of summer.
Although minor fixes were made to reopen the roadway after last year's devastating storms, as reported here, permanent repairs are on the way that will delay travelers. Currently temporary repairs are a underway again on the roadway and will run through Friday May 25. Strategic scheduling, according to Forest Service spokesperson Diana Fredlund, "This is just to make sure that it is accessible to everybody for the Memorial Day weekend because Spicer Road is really important. It's got access to Spicer, Union, and Utica reservoirs; all east of the community of Arnold. There are a lot of folks that want to be going up that way."
The Spicer Road Repair Project that will begin permanent fixes starts Tuesday, May 29 and continue until sometime in late July. Fredlund adds that funding for the repairs came from the Federal Highway Administration, program known as ERFO, or Emergency Relief for Federally Owned roads. She cautions travelers, "This will be an active construction site. Visitors should pay attention to roadway signs, be alert to the possibility of construction equipment, slow down when approaching traffic controllers and please drive cautiously through the construction zone."
The repair area stretches along sections of Spicer Road between Highway 4 to Spicer Meadow Reservoir.