Roads And Campgrounds Reopen On Forest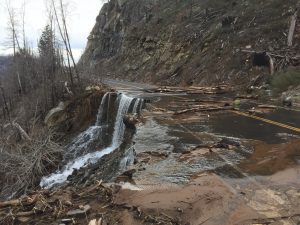 Cottonwood Road Damage

View Photos
Sonora, California – Three roads that suffered extensive damage from winter storms have reopened in the Calaveras Ranger District of the Stanislaus National Forest.
Spicer, Slick Rock and McKays roads were open to travelers at noon on Wednesday, just in time for the Fourth of July festivities.
"All three roads are safe for public access, but please use caution and drive slowly. We have identified the damaged road segments and have marked them with signs, barricades and reflectors so drivers are aware," said Casey Jardine, acting Calaveras District Ranger. She adds, "We are glad the visitors will be able to enjoy recreating within the Spicer, Union, Utica and Slick Rock areas again."
Along with the roadways use, campgrounds will also be ready for campers for the Independence Day holiday weekend. The Forest Service provided this list of campgrounds: Spicer, Spicer Group Camp, Union East, Union West, Rocky Point, Sandy Flat and Stanislaus River.
One roadway that remains impassible is 7N29Y that leads to Elephant Rock and Summit Lake trailheads. Additionally, Highway 4 remains closed at Lake Alpine as Caltrans continues to clear snow from Ebbetts Pass. However, Silver Tip and West Shore campgrounds are open.
Forest officials stress that significant work is still needed before the roads can be called completely repaired. Acting Deputy Forest Supervisor Jim Junette urges. "It's vital that people remember driving on the Forest is not business as usual this year. The roads are open, but some are limited to one lane in places. You may come around a bend and find a damaged road, so we ask that people drive defensively."
As reported here in April, some forest roads will remains shutdown until at least the end of 2018 due to the storm damage.