Property Crimes Plaguing Angels Camp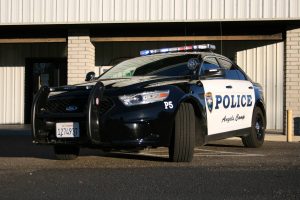 Angels Camp Police patrol car

View Photos
Angels Camp, CA – The Angels Camps Police Chief is reporting an uptick in property crime in his city noting that the public's help is needed and cites example of where it has help prevent crimes.
"They are our eyes and ears on the community," states Chief Todd Fordahl as he detailed two recent attempted crimes that alert residents prevented. The most recent was on Sunday morning at a home in the 600 block of Gardner Lane. A thief tried to jiggle the handles on a vehicle in a woman's driveway, as she was sitting in another car parked next to it. When the thief finally noticed her, he jumped into a waiting blue PT Cruiser that sped away. In the afternoon last month, as reported here, another woman at a home on Whittle Road watched as a man tried to disable her electric home gate to get onto her property. She confronted him and he took off, but not before she got pictures of the van he was driving.
Neither of these incidents resulted in arrests, but officers were able to find the vehicles and question possible suspects. While Chief Fordahl would have rather made an arrested, he stresses, "If they know that law enforcement and the public is paying attention and that we are being proactive about it, they will pick an easier target. They're going to go somewhere where they're not as likely to be identified or contacted by law enforcement and that's the goal. If we can push them out of our area, then that's what we want to try to do."
Chief Fordahl attributes the rise in property crimes to drugs, stating, "Most of the property crime issues are fueled by people with drug problems. They're stealing things that they can get rid of quickly for money to buy narcotics." He adds what is really disturbing is the fact that the criminals are getting more brazen and committing the crimes right in broad daylight, as was the case in the aforementioned cases. While he wants the publics continued assistance, he advises, "They need to be a little bit cautious too and not get themselves involved in some type of violent confrontation because we don't know the mind set of these people. They could be strung out on drugs and they won't be thinking in their right mind – that's when bad things can happen."
If you see suspicious activity, Chief Fordahl suggest the best way to help police is not to confront the person, but instead take a picture, if it is safe to do so, or write down a license plate number along with a description of the person and what they are wearing. Next, call 911.