Contract Signed To Fell Arnold Area Homeowners' Hazard Trees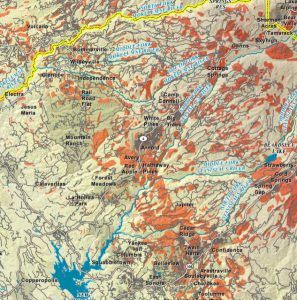 Cal Fire Tree Mortality Map

View Photos
San Andreas, CA — Residents in an Arnold area community are being nudged to return the paperwork that will get them free help in ridding their properties of beetle-killed trees.
According to Sharon Torrence, spokesperson for TSS Consultants, the contractor overseeing the dead and dying tree removals under Calaveras County's tree mortality disaster plan, a contract is now in place to take down about 50 trees in the Pinebrook subdivision. She adds that once the work actually begins in the next several weeks, a schedule and a list of roads that may be impacted by temporary traffic delays will be released.
Ahead of that however, the county is required by law to receive back signed right-of-entry (ROE) forms that were mailed out to affected owners. As soon as these are returned, foresters working on the project will be able to enter the properties, assess them for hazard trees and mark them for removal.
The program is specifically targeting trees that, affected by past years of drought and bark beetle infestation, pose a threat to county infrastructure. As reported here, the Pinebrook tree removals are part of a larger first phase that includes other Arnold area subdivisions.
Those who have received an ROE form are urged to sign and return them as soon as possible. The  forms may be returned by mail in the provided self‐addressed, stamped envelope or by email. Anyone with questions about the tree mortality program, is encouraged to contact Program Manager Dr. Richard Harris at 707 685‐5508.