Property Owners Help Required For Tree Mortality Project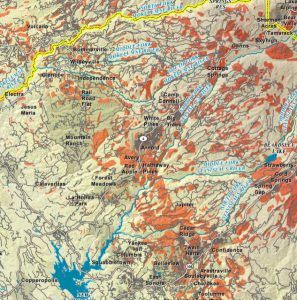 Cal Fire Tree Mortality Map

View Photos
Arnold, CA — Calaveras County Tree Mortality Mitigation Program foresters have completed the initial survey of hazardous trees in the first project area of the county and notices have gone out to impacted property owners.
Project 1 includes Blue Lake Springs, Pinebrook and a portion of the Fly-In Acres Subdivisions in the Arnold area. Foresters working with the county's Tree Mortality Task Force have identified properties where the dead and dying trees could damage infrastructure and create a threat to the traveling public. To keep the process moving, the county is turning to land owners. According to the County's Tree Mortality Program Manager, Dr. Richard Harris, private property Right-of-Entry (ROE) request forms have been sent to over 360 lots. Once those forms are signed and returned to the county by the landowners, foresters will begin marking trees to be cut down. The work will be done at no cost to the property owners who will be able decide whether to keep logs and slash or have it removed.
Dr. Harris noted "It is essential that property owners, whether full time or part time residents, or those with unimproved property sign and return ROEs as soon as they're received. Work is anticipated to begin in February or March. Delays in abating these hazards increase the risk that they will fall onto county roads and not only damage the roadway but cause injuries to the traveling public."
The county has included a self-addressed stamped envelope in the mailing to allow for free returns. The form can also be filed by email with the address listed in the paperwork. Any questions regarding the program can be directed to Dr. Harris by either calling (707) 685-5508 or emailing him at rrharrisconsulting@gmail.com.  Updates on the tree mortality mitigation work can be found by clicking here.