Popular Sonora Restaurant Reopened After Fire Closed Its Doors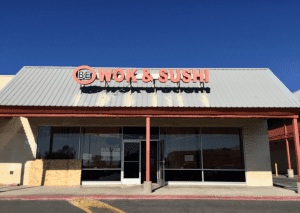 Be Wok and Sushi Post-fire Feb 8 2018

View Photos
Sonora, CA — The Be Wok and Sushi restaurant was shut down for over 9 weeks but owners used the time to not only make repairs but give it a facelift.
The doors of the eatery located at 764 Mono Way in Sonora reopened today with the smell of ginger and soy sauce welcoming customers once again. As reported here, on February 7th at around 11:30 p.m. firefighters were alerted to the blaze. Once on the scene crews contained the flames to the kitchen, but the business had smoke damage as well.
A call by Clarke Broadcasting today to the restaurant confirmed it was open for business with owner Bonnie You cheerfully answering the phone, "Be Wok, we're open again!" She relayed that the over two month closure was a result of waiting for insurance company money, upgrading to a whole new kitchen, along with outside and inside remodeling.
We tried to contact Sonora Fire Chief Aimee New regarding whether a cause has been determined for the blaze, but have not yet received a response.