Ribbon Cutting Rescheduled For Shower Bus For Homeless Residents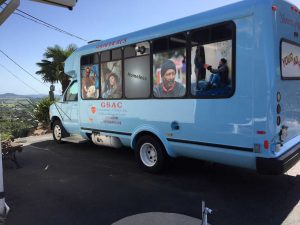 Shower Bus

View Photos
Sonora, CA — The non-profit group Give Someone a Chance will have dignitaries on hand at the ribbon cutting ceremony for its new shower bus that will be available in the community.
We reported earlier that the bus will have two shower stalls and one will be handicap accessible. The vehicle was previously a Tuolumne County Transit bus before being redesigned with shower facilities.  The organization will also provide clean socks, underwear and hygiene products. The group has been assisting homeless residents over the past seven years and this is a new way to expand the outreach. The ribbon cutting will be held on April 18 from 11:30am-1:30pm in the commons area at the Sierra Bible Church on Tuolumne Road. Guest speakers will include Sonora Mayor Connie Williams and District Two Tuolumne County Supervisor Randy Hanvelt.
Hazel Mitchell of Give Someone a Chance estimates it will cost around $75,000 to $100,000 to operate the bus each year, with the goal of providing 5,000 – 6,000 showers. The plan is to eventually take it to four locations in the county each week. A spaghetti dinner fundraiser is scheduled for May 5 from 5-9:30pm at the Elks Lodge in Sonora. For more information, you can call 209-588-8377.
This past October the Amador Tuolumne Community Action Agency (ATCAA) released the findings of a summer pit count that located 711 homeless residents living in Tuolumne County, of which, 177 were under the age of 18.
The ribbon cutting was originally planned for last month but it was rescheduled due to heavy rainfall.