Over 700 Are Living Homeless In Tuolumne County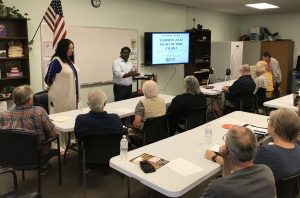 ATCAA's Tamara Dockstader and Raj Rambob lead a conversation regarding the new homeless census

View Photos
Sonora, CA — ATCAA, the Amador Tuolumne Community Action Agency, released the findings of a summer pit count identifying the number of homeless residents in Tuolumne County, and the figures are eye-opening.
Funding for the count came from a grant given by the Sonora Area Foundation. ATCAA released the numbers at its office on Blue Bell Road last night and then hosted a community conversation looking ahead. A total of 711 homeless residents were located during the count, and of note, 177 were children under the age of 18.
ATCAA Executive Director Raj Rambob comments, "I think the sheer number, 711, is a big number of homeless. Over half of that are folks that identified as being from Tuolumne County, a little over 100 didn't identify where they were from, and the balance are from out of the county. I think the single most staggering stat to me is that eight high school students are living in a tent, and still going to school. I think that's remarkable."
The main issues cited that led to homelessness from the people who ATCAA interviewed include a lack of affordable housing and employment opportunities.
Looking at possible interventions and solutions, Rambob notes, "We talked about multiple approaches. The most simple one to talk about right now is a 'low bar approach' and find some space to bring in minimal infrastructure, showers, garbage removal, laundry, restrooms, and bring in some community members to build relationships, and also have program representatives available on site from time to time. That's something, I think, we're going to be talking a little bit more about soon."
Acknowledging that reducing homelessness is a major challenge, there seemed to be a majority consensus among those in attendance that the best approach is to pick a single thing/project, make it a success, and then gradually build on that success with other efforts.
Some of the volunteers that helped conduct the pit count were on hand last night, as well as homeless advocates, and local officials, like county supervisors Sherri Brennan and Randy Hanvelt, and Sonora City councilmembers Mark Plummer and Jim Garaventa.
To view the slideshow from last night's presentation, detailing many more of the stats, click on the image box.