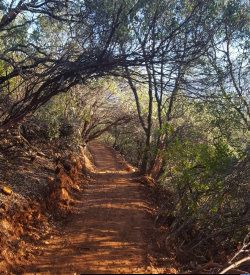 Dragoon Gulch Trail addition

View Photos
A variety of events are scheduled this weekend on Friday, Saturday and Sunday.
Friday and Saturday Mother Lode Christian's 38th Winter Jubilee will be held at the Mother Lode Fairgrounds in Sonora. Kerry Simpson spoke about the event as detailed here when she was a KVML "Newsmaker of the Day".
Thursday's KVML "Newsmaker of the Day" was Special Olympics Northern California "Coach Dave" DeCheney talking about the Lake Tulloch Polar Plunge This Saturday Morning, the details about the event are here.
The 2nd Annual Tea Party at Columbia College raises money for Child Development Permits, Scholarship, Event supplies and Fingerprinting. Ticket details are here.
Theater performances continue with Mamma Mia! Musical Theatre by Sierra Reperatory Theater at the East Sonora Theatre. "A Mad Breakfast" A One Act Comedy at MYACT.
Another showing of the documentary Generation Zapped will be at Jamestown Community Hall. More details about the film were featured here.
More events on Saturday include a Seed Share Event, the Red Cross: Keep Your Love Alive-Preparedness Fair at the in San Andreas and the Everything But Animals Dayat Sonora Elementary. Everything But Animals is a showcase of STEM, cooking, community service and other non livestock 4-H projects.
Sunday the High County Sports Arena is offering open roller skating from 4 to 6pm for Operation Family Free Skate. Location details are here. In the Mother Lode Adventist Junior Academy Gym is the Ooh La L'Auction, details are here.
The 4th Annual Dragoon Gulch Run will feature the ribbon cutting ceremony for the trail expansion this Sunday morning. Mountain Om Yoga will present a warm up at 7:30am and there will be pancakes will be served from 9:30am to 11am for all registered participants. Runners will start at 8:00am and those walking will start at 8:05am. Parking is available at the Seventh Day Adventist Parking lot, in medical office areas on Forrest Road and at Woods Creek park. Details about the run are here, and details about the trail expansion are in the recent news story "New Trail Has Nature Calling In Sonora" here.
For even more events this weekend that are not listed above view the full upcoming events list here.