New Trail Has Nature Calling In Sonora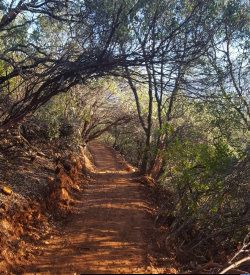 Dragoon Gulch Trail addition

View Photos
Sonora, CA – Mother Nature is calling as another section of the wooded Dragoon Gulch Trail in Sonora will soon be open to the public.
Construction on the Dragoon Gulch Trail Expansion Project began in December of last year. Sonora Community Resources Director Rachelle Kellogg calls the additional 1.5 miles a "meandering trail" with a magnificent vista for hikers to enjoy. Excitedly, she boasts, "A city's mission, per se, is community health. This is a wonderful facility for people to stay healthy," while she insists, "it's good for physical as well as mental health. When you're out on that trail you totally forget where you are. You don't even think of the fact that you're right outside the downtown of the city. It's rare for a city to have such a treasure right within their limits."
Hikers will be able to use the trail for the first time on Friday (Feb. 23), but the official ribbon cutting to open the new stretch will be held on Sunday, February 25th 8 a.m. at Bonanza Court and the trail entrance on North Forest Road.  Immediately afterwards, runners will take their mark for the Dragoon Gulch Trail Run. Kellogg also conveys there is more work to be done in the coming months including adding benches for those who might need to take a breather.  "We want to strategically place them so people can sit and enjoy a vista and also a place of rest if it's a real strenuous area." She also notes that signage is still needed, "We'll look at signage and make sure people have the right directions so they don't get lost." On a serious note, she details that mileage markers will be put in place so if a person were to get injured they would be able to tell emergency responders where they are on the trail. Finally, in the springtime, crews will complete the final drainage and culvert work.
The $41,000 Dragoon Gulch Trail Expansion Project was funded with help from the Tuolumne County Transportation Council, non-profit group, Front Porch and a trail me grant from the Sonora Area Foundation.