Update: Hard Freeze Warning Issued For The Mother Lode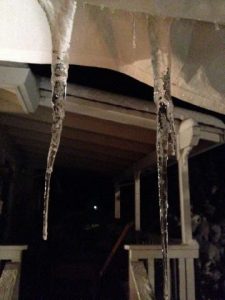 Icicles

View Photos
The National Weather Service has issued a Hard Freeze Warning for both the Mother Lode and the Northern San Joaquin Valley, through 8 AM Wednesday morning.
A very cold airmass is over Northern California.
Overnight low temperatures will range from twenty-two to twenty-nine degrees.
The coldest temperatures are expected this morning, with another night of freezing temperatures tonight into Wednesday morning. Several hours of subfreezing temperatures are likely.
Freezing temperatures can damage or kill plants that are sensitive to cold. Consider wrapping external pipes which may be vulnerable to freezing. Please check on the elderly and make sure your animals have a warm shelter.
A Hard Freeze Warning means sub-freezing temperatures are imminent or highly likely. These conditions will kill crops and other sensitive vegetation.