State Water Use Up With Little Rain Coming Down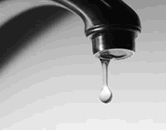 Water

View Photos
Sacramento, CA –  With rainfall minimal in this warm winter, state water officials are once again looking at whether to implement tap use restrictions.
The latest figures show water use climbing in Southern California with parts of Los Angeles and surrounding counties seeing a 3 percent spike. That is the same level it was at the start of the state's five-year drought. Some of the highest usage is attributed to homeowners attempts to try to save expensive landscaped lawns in affluent communities like Malibu and east Orange County.
With Southern California having received less than a fourth of its normal rainfall to date, some areas have recently been declared in severe drought by the U.S. drought monitors once again. That is prompting a possible vote next week by the members of the state's Water Resources Control Board regarding whether to permanently reinstate some water-use restrictions, including limited yard watering in those areas.
Of note, Tuolumne Utilities District General Manager Tom Haglund is also voicing concerns that the lack of snowfall here could force water conservation measures down the road. Further remarks on the subject can be heard on Clark Broadcasting's "Mother Lode Views" show airing this weekend with the times listed below.