PG&E: Be Careful With The Valentine's Day Balloons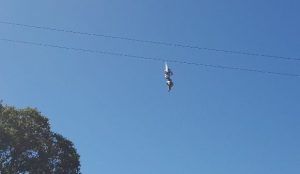 Balloon Caught In Power Lines

View Photos
Sonora, CA — More metallic balloons are sold on Valentine's Day than any other holiday, and it creates concerns for PG&E.
The utility reports that it is very common for outages to occur on the holiday due to unsecured balloons drifting into powerlines. State law requires metallic balloon sellers to tie them to an object of sufficient weight to keep them from flying away.
Dave Meier, a senior manager for PG&E, says, "Metallic balloons are conductors of electricity and pose a significant threat to power lines if released into the air. It takes only one metallic balloon to inconvenience thousands of customers, cause significant property damage and potentially result in serious injuries."
PG&E reports that throughout last year there were 456 power outages in Northern and Central California caused by metallic balloons.