CCOG Hwy 4 Murphys Corridor Study Seeking Citizen Advisors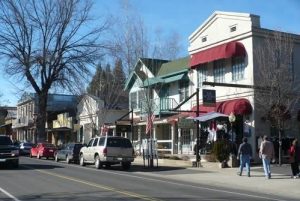 Downtown Murphys

View Photos
San Andreas, CA – Opportunity is knocking for those interested in how future transportation infrastructure shapes up along the Highway 4 Murphys corridor.
This week the Calaveras Council of Governments (CCOG) is sending out a call for applicants who would like to volunteer for a stint on a new advisory committee that will have key input into the preliminary planning stages of CCOG's Murphys State Route 4 Complete Streets Project.
As CCOG Executive Director Amber Collins explains it, "The advisory committee is really critical to guiding the process and being a sounding board — prior to public outreach events or draft materials. So, having representatives from the community in different community groups — like the local businesses, the senior community, school…other community groups — are critical to making sure that this project is a success and really reflects the community's needs and desires."
Funding for the project came in the form of a Caltrans Sustainable Transportation Planning Grant totaling just over $237,000. Collins says the corridor study, among CCOG's main areas of focus in the coming year, is similar to one recently completed for the San Andreas area that the Calaveras County Board of Supervisors recently adopted.
"Ultimately it will lead to future infrastructure improvements, so gathering the community input, their feedback and identifying the needs…is the first step for us to be able to seek funding to get improvements," Collins shares. As far as time commitments go, she estimates that those chosen to serve on the Murphys State Route 4 Complete Streets Project Advisory Committee will over the next 18 months, attend possibly five quarterly meetings as well as review and provide input on materials as they are generated.
Through the process, Collins says, those involved will be helping develop a conceptual infrastructure plan and a prioritization process for future improvements, mainly along the Highway 4 corridor but also on Pennsylvania Gulch and other local roads connecting onto the corridor. Scope includes providing safe, improved connectivity by all transportation modes with emphasis on access, aesthetics, and mobility as well as planned operational investments while also providing safe routes to Michelson Elementary school.
"I think if people have an interest to see more biking and walking throughout the community, we will be trying to identify streetscape improvements, beautification projects, bicycle and pedestrian projects. So if anybody in the community has any interest in any of that, I would say to get involved," Collins emphasizes. Too, she adds, "We will have opportunities throughout the process for the community-at-large to be involved as well through public outreach events."
For more details and to download an application, click here. Forms must be submitted by Jan. 24. Collins says that CCOG anticipates making appointments at its Feb. 7 meeting.